In the merger and acquisition market there have been many flavors of the month, but the demand for industrial companies is the equivalent of chocolate: almost universally and consistently liked by acquirers. Industrial companies including, manufacturing, distribution and services, are a significant portion of the American economy and will remain so well into the future. At one time, the demise of the industrial sector was predicted as low cost manufacturing transitioned overseas. In recent years the demand for industrial products produced in the U.S. has expanded. Throughout these differing viewpoints M&A activity in the industrial sector has remained strong.
A number of factors have helped facilitate the renewed interest in industrial production throughout the U.S. These include, continued focus on improving the supply chain with OEMs focused on tight delivery schedules, intellectual property protection, demand for skilled workers and lower cost of production due to abundant natural gas. When taken in aggregate, these factors have led to an increase in more specialized manufacturing which not only require a highly skilled workforce, but is also unable to leverage many of the benefits of overseas production due to the distance and cost of transportation.
An example of the resurgence is the most recent survey of the Institute of Supply Management's manufacturing index which rose to the highest level in four years. In addition, a measure of new orders reached its highest point in 10 years. The data suggests that recent growth in this sector will remain strong in coming months. This gauge is indicative of the strength in this and complementary sectors.
One of industrial manufacturing's biggest impediments to growth in the U.S. is finding a skilled workforce that is able to run the complex machinery necessary to manufacture today. Programs at technical schools and community colleges are filling part of the void, but demand for good labor is outstripping supply. This issue needs to be addressed before growth is hampered or alternatives will need to be found.
As the manufacturing base has increased, other industrial sectors such as distribution and services have benefited. Distribution benefits from selling to the OEMs and Tier 1 or 2 manufacturers that need critical components that will be delivered at a good price and on time. Industrial services has seen the benefits of facility construction, expansions and/or maintenance. As a recent New York Times article highlighted, the resurgence of industrial manufacturing has brought many benefits to areas that were suffering, including below average unemployment.
What does this mean for M&A and companies in this sector? As the chart from PCE's most recent General Industrials Update (2Q14) demonstrates, acquisition activity remains strong and continues to expand. Evaluating rolling twelve month periods from June 30, 2010 through 2014, the number of completed
transactions has consistently increased each year. Domestic acquirers continue to remain the most significant part of the market and private equity continues to actively seek out targets in this sector. The chart below does not take industrial services into account.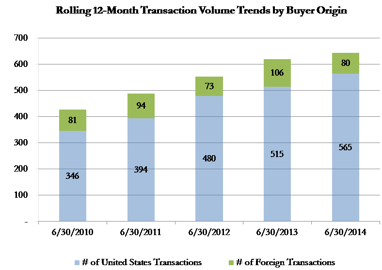 Source: S&P Capital IQ and PCE Investment Bankers proprietary data

Going forward activity should continue to pick up for industrial manufacturing, distribution and services companies. Demand from larger strategic acquirers seeking complementary products, services or capabilities remains very high. Additionally, private equity groups are seeking portfolio companies to leverage the growth described above or acquisitions for current portfolio companies for reasons similar to strategic acquirers. The current environment offers strong selling opportunities for companies in the industrial sector while the economy remains on good footing and continues to grow.

If you have comments or questions about this article, or would like more information on this subject matter, please contact us.