There have certainly been better days – and even better years – for the nation's construction industry. But extended periods of strong growth have turned sluggish making a once vibrant industry fall back to levels not witnessed in nearly a decade. As economic conditions improve, construction is sure to take off again but how soon that will happen is the question on everyone's mind.
The difficulty is in finding the underlying cause to construction's decline amongst all the downward sloping charts that record construction spending (see below). Despite an on-going downturn in both residential and non-residential construction spending, there was a glimmer of good news in April. Total spending crept up 2.7% for that month. However, one month is not indicative of a trend as evidenced by year-to-year comparisons that show an overall 10.5% decrease.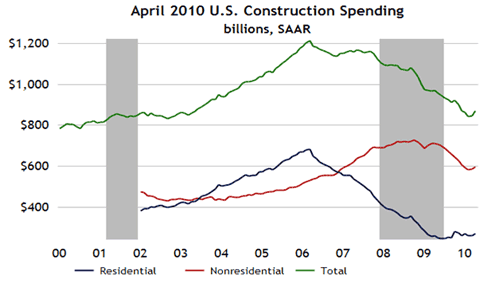 Encouraging signs are surfacing in the manufacturing and power sectors of construction (see chart below). Heightened activity in manufacturing may be linked to increases in the Purchasing Managers Index, which indicates activity by manufacturing companies. Comparable improvement in the power sector is supported by other predominately "public" sectors such as conservation and development, water supply, sewage and disposal and highway construction. Overall, the public sector slowed slightly (5%) when compared to the private sector which weakened nearly 25% from last year.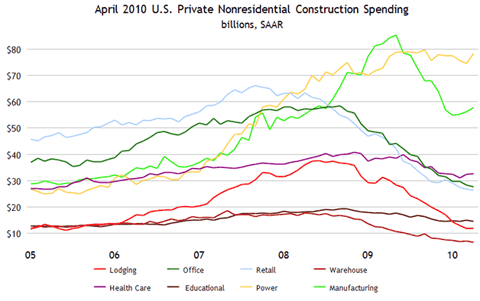 Residential construction seemed to be back on track and headed towards an improved trend line until the May housing data was released. Obviously, the housing tax credits provided a temporary boost in activity but that impetus could not be sustained by consumers. The annual sales rate dropped to 300,000, the lowest level recorded since 1963, the first year annual sales were maintained. That resulted in a 33% decline in unit sales from last month. Consumers are still in a precarious financial situation causing spending to soften and their focus is now more firmly on reducing debt and saving.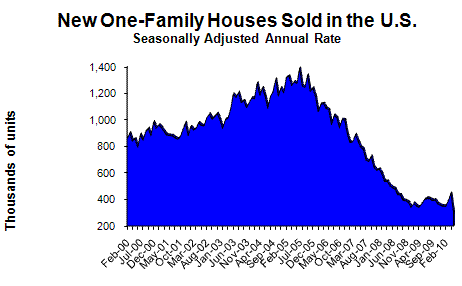 The construction industry in general will see better days ahead, although some sectors will get there faster than others. As confidence grows we will see both the public and private sectors increase construction spending. In the meantime, construction businesses will need to run lean operations and possibly expand not only the region in which they operate but the types of projects they undertake as well.
If you have comments or questions about this article, or would like more information on this subject matter, please contact us.