COVID-19 has caused a significant drop in the value of many privately owned businesses, real estate investments, and other assets. While this is a tragic situation, there is an opportunity to "make lemonade from lemons." The combination of reduced asset values, recently passed regulations, and current tax laws yields some extraordinary strategies to transfer or gift these assets.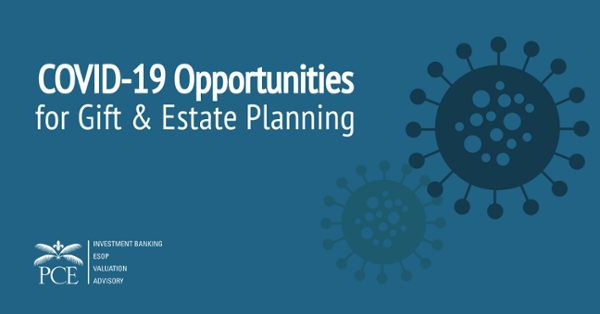 Extended Filing and Payment Due Dates
The Treasury Department and the Internal Revenue Service announced regulations that allow certain taxpayers to extend the due date for both filing and payment until July 15, 2020. If the payment is made on or before the new deadline, the usual failure-to-file and failure-to-pay penalties will not apply. This deferment applies to certain individuals, corporations, trusts and estates, and other non-corporate tax filers. The extension allows taxpayers to preserve cash if the deferment is elected.
High Gift, Estate, and GST Tax Exemptions
In addition to an extended tax-payment due date, exemptions from gift, estate, and generation-skipping transfer (GST) taxes are at an all-time high. The current exemption amount of $11.58 million is temporary. In 2026, the basic exemption amount is set to revert to its pre-2018 level, adjusted for inflation. Thus, to take advantage of the higher basic exclusion amount, it is more beneficial in the long run to make gifts before 2026.
Gift Tax
With valuations of businesses, business interest, property, marketable securities, and other investments trending downward, it may be possible to transfer larger interests in a closely held entity or a family limited liability corporation. The higher exemption amount mentioned earlier, along with the lower asset values today, make it an opportune time to make transfers, such as gifts and leveraged sales.

If lower-value assets are transferred now, a lower amount of the exemption is used, and more is retained for future gifts. When the markets recover and asset values increase, the growth will occur outside of your taxable estate. As a result, you would maximize your exemption by gifting hard-hit assets that are ultimately expected to rebound significantly.

In addition to lower asset values are the effects of possible discounts. Under the fair market value standard, a minority interest in a closely held entity or a limited liability corporation would be subject to possible discounts for lack of control and lack of marketability. In many instances, the discount for lack of control is supported by prices in publicly traded closed-end funds. Currently, those prices are depressed as well, resulting in a higher price to net asset value discounts. The larger the discount, the larger the percentage interest that can be transferred and thus fall under the exemption limit.

Furthermore, now may be an opportune time for a transfer using a grantor retained annuity trust (GRAT). With this mechanism, a transfer of assets to beneficiaries, such as family members or a trust, can be achieved at a reduced transfer tax cost. When the GRAT's term expires, the remaining assets are distributed to the beneficiaries.

Aside from estates, trusts, GRATs, and other similar structures, owners of closely held businesses may have an even greater opportunity in gifting business interests. This is due to the higher level of risk inherent in small businesses. Even in normal times, small, closely held businesses have a greater perceived level of risk, but with a global pandemic, those risks are amplified. As observed in the markets, the declines in small-cap stocks far exceed the major stock market indices. Given the uncertainty of when we may see a return to normalcy, most closely held businesses will have values far less than what they were just several months ago.
Estate Tax
For estate tax purposes, assets are typically valued as of the decedent's date of death (DOD). However, if this approach reduces the value of the gross estate and the estate tax due, executors may make an alternative valuation date election. This election allows for estate assets to be valued six months after the decedent's death instead of at the DOD.
During the present time of declining market conditions, this election can be a very powerful tool to reduce estate taxes. For example, executors of an estate of a decedent who passed away approximately six months ago could make the alternative valuation date election in order to value the assets as of a more recent date. It is very likely that the fair market value of the underlying assets, property, marketable securities, ownership interest in closely held businesses, etc. have declined considerably since the DOD.
As there are various issues to consider, such as the possibility that the lower asset values could result in higher capital gains for beneficiaries in the future, executors should speak to their tax professionals about whether this election is the best option.
Lower Interest Rates Make Loans More Attractive
For individuals who have used a promissory note to transfer assets to beneficiaries or a trust, it is a convenient time to consider refinancing the promissory note. With interest rates (specifically the applicable federal rate, or AFR) near or at their all-time lows, refinancing is a simple way to increase the amount transferred to beneficiaries.
Other strategies could be employed with low-interest rate private loans, ranging from loans used to purchase investments at today's low prices to installment sales on lower-priced assets. These are complicated and sometimes risky strategies, however, and individuals should consult their tax advisors when considering any of these options.
Tax Planning Opportunities
There is no question we are living through unprecedented times, and with a presidential election in the coming months, there is a great deal of uncertainty. Should there be a change in U.S. leadership, exemption levels may decrease, gift and estate tax rates may increase, and valuation discounts could be eliminated. While COVID-19 has produced the potential for an economic catastrophe, it has created an opportunity for those individuals performing estate planning. If you are considering a transfer of assets, it is essential to consider how today's environment could impact value and how the transfer of wealth today could be beneficial.
407-621-2100 (main)

678-641-4760 (direct)

407-621-2199 (fax)