We wrote a newsletter on a similar topic last September. At that time, we cautioned that a recession and the potential for higher taxes might lead you to think about selling earlier than you imagined. Unfortunately, the recession prediction came true sooner than expected. As for taxes, there is a decent chance that former Vice President Biden will win the election, and a Democratic Senate will follow. But no matter who wins, taxes will almost certainly rise in the coming years to pay for the huge costs of the recession and the enormous government payouts made over 2020.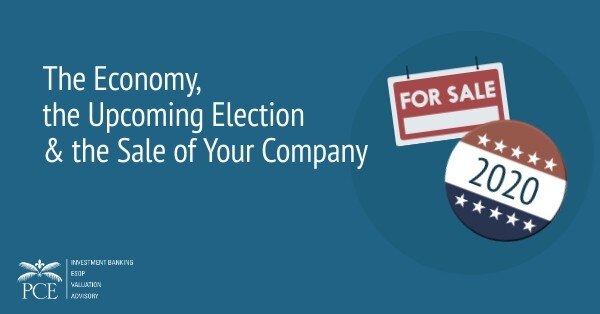 Given the turmoil and uncertainty these issues raise, if you're thinking of selling in the next one to three years, you should consider revising your timeframe to close a transaction by the end of 2021. While there's no guarantee that tax law changes would be deferred until 2022, these policies usually go into effect the following calendar year. Waiting too long could put you at a distinct disadvantage.
How the Economy Is Affecting M&A
The impact of COVID19 was swift and severe. The virus has created a bifurcated M&A market where some industries have performed well (in fact, some have boomed), and others have not. Companies that have undergone even flat to improving performance are in great demand by buyers since they have proven to be resilient through the most challenging economies any of us have experienced. Odds are that owners of these companies will receive a strong valuation.
For companies that have been negatively impacted, valuations have decreased significantly, and the M&A market has disappeared for the time being. These owners are better off waiting until their performance improves and their valuation returns to the upside.
Though the recent recession is technically over, it was far more severe than anyone could have anticipated last year, and its effects will linger. The recovery will be slow, with the most severely impacted industries lagging far behind. Sectors such as retail, restaurants, travel, hospitality, and entertainment will recover ever so slowly due to the restrictions that remain in place. Once there is a vaccine, these segments should rebound quickly, but the impact of the virus on other sectors of the economy will be felt for many years to come. Regaining the peak of 2019 will take a long time.
How the Upcoming Election Will Affect M&A
The election poses the most significant risk to after-tax proceeds. The tax plan passed by the current administration reduced tax rates for most business owners, which was viewed as a significant win for businesses and the wealthy. This view stands in contrast to the position former Vice President Biden has taken. He has proposed new taxes that would significantly affect business owners. Some of the Biden increases include:
The highest individual tax rate increasing from 37% to 39.6%,
Capital gains taxes increasing from 20% to 39.6% on income above $1 million, and
The corporate income tax rate going from 21% to 28%.
While these are just proposals, they do indicate the direction taxes would move if the Democrats control the House (which is highly likely), the Senate (possible) and the White House (possible). When we wrote about this subject previously, this seemed like only a possible outcome. But it is far more likely today.
Even if the Republicans do win the White House or retain control of the Senate, the growing deficit will need to be addressed at some point, which will most likely lead to higher taxes. If President Trump is reelected, he is unlikely to support a tax increase, but the person who follows him will most certainly need to address this issue. President Trump's reelection would simply create a longer timeline before a tax increase is likely to come, but it is inevitable.
A tax increase is a major concern when selling your business. The gross sale price is important, but your proceeds after taxes are far more relevant. If your net proceeds are reduced because of the change in the tax laws, the only way to make up the difference is to step up your company's financial performance. And realistically, it could take several years to counteract the negative impact of increased taxes. You need to determine if selling now before taxes go up gets the same or better return you'd see by waiting and growing your company and selling down the road. This is not an easy process, but one you should strongly consider evaluating if a sale of your business is on the horizon.
Postponing Your M&A Transaction Could Be Risky
We cannot predict when the economy will be back to its former robust activity, but more than likely, it will take some time. We also cannot be certain who will win the next election, but we know that the risk of a tax increase is high, whether it takes place in a year or five years. Sell now or wait? We can help you decide.
407-621-2100 (main)

201-444-6280 Ext 1 (direct)

407-621-2199 (fax)