A market like today's requires flexibility to continue to be successful. Flexibility to work remotely, to fit in homeschooling for your children, to stay fit while the gym is closed, and countless other ways we have all adapted over the past two months. This flexibility will also need to include flexibility with how M&A deals will get closed in this market. For business owners interested in a flexible M&A deal, selling all or part of their business to an Employee Stock Ownership Plan (ESOP) might be the best option. We expect ESOP sales will be the first type of M&A transaction to come back after the pandemic-driven slowdown eases, in large part due to the flexibility they offer.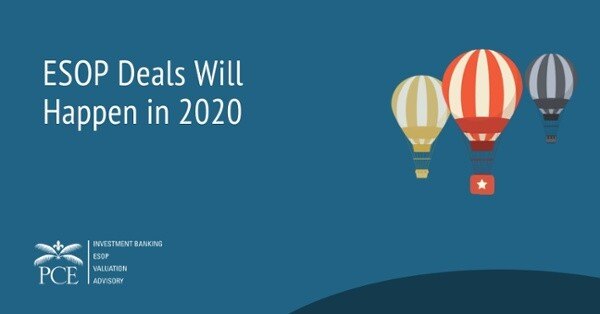 Based on what we see in the market today and what we have experienced in previous economic downturns, this is good news for business owners who want to:
Receive fair value for their business
Generate liquidity and increase personal diversification
Develop employee loyalty and attract new talent
ESOPs are Predictable
ESOPs provide other advantages as well, such as predictability. In an environment where business owners must invest their time and resources wisely, ESOP deals provide a greater degree of certainty than more traditional M&A deals as the seller can better ensure the deal meets expectations before moving forward. The basic constructs of ESOPs surrounding raising capital, valuation, and employee benefits provide predictability, allowing business owners to feel confident about the transaction, even in today's market.
ESOPs Are Unemotional About Value
ESOP trustees who make the purchase decision on behalf of the ESOP are legislatively mandated to pay no more than fair market value for the stock purchased. This distills the valuation exercise to one of calculation rather than one intended to favor the buyer. Having a good sense of how the buyer will view value gives us a greater ability to estimate value ahead of time, which lets the seller know if an ESOP transaction is worth pursuing. It also helps the trustee remove some of the pandemic noise from the financial picture of the company establishing the ESOP.
Banks Love ESOPs
The Great Recession demonstrated that ESOP companies are strong performers in tough times, as evidenced by their higher employee retention rates and their lower loan default rates compared with other companies. This track record, coupled with the preferential tax treatment ESOPs receive, makes them superior borrowers. An ESOP can repay debt on a pretax basis or become federally tax-exempt, creating more cash flow than a comparable non-ESOP company. For these reasons, we expect to see significant bank interest in making loans to companies establishing ESOPs.
ESOPs Offer Diversification
Hard economic times like these can remind business owners that there is risk in tying up a significant portion of their net worth in their privately held company. However, today may not be a good time to sell the entire company for personal or strategic reasons. Additionally, finding an investor who is willing to purchase a minority position without demanding certain control provisions will not be easy. The answer is selling a portion of the company to an ESOP, realizing some diversification personally while retaining ownership of the majority of the business, and deferring the remaining value to a later date. ESOPs are happy to purchase as little or as much of the company as owners want to sell, as long as they pay a fair price and obtain fair terms and conditions. We expect there will be significant activity from business owners who sell a minority stake in their company through a tax-advantaged ESOP, thereby benefiting the owner, company, and employees.
Deals Will Happen in 2020
As we work through the challenges of the current market, some companies clearly could benefit from ESOP deals. Whether it entails a small portion of the company or the entire business, an ESOP can provide business owners with the flexibility they need to complete a transaction this year.
Sources:
https://www.nceo.org/articles/default-rates-esop-loans-2009-2013
http://esca.us/wp-content/uploads/2015/11/Brill_S_ESOP_Study_20121.pdf
http://esca.us/wp-content/uploads/2016/01/ESOP-Study-Final.pdf
407-621-2100 (main)

407-621-2111 (direct)

407-621-2199 (fax)