PCE predicts a continued and accelerated trend of consolidation for Florida home builders very much akin to what we have seen in the banking industry. The large national home builders are changing the competitive landscape of the industry and, by the end the decade, will control a dramatically increased market share of the single-family permits in Florida.
Consolidation Trends
Market share of home closings by today's top ten national companies almost tripled from 4.75% to 13.9% in the span of ten years from 1993 to 2003. Yet with this extraordinary accumulation, the homebuilding industry remains highly fragmented and poised for continued consolidation. The largest home builder, DR Horton, represents less than 2.25% of the entire market.
The larger firms enjoy economies of scale, greater purchasing power and access to the capital markets. These advantages are particularly powerful to homebuilders as land prices continue to climb and land sellers negotiate less generous terms with developers. Consolidation is being driven by factors such as arbitrage opportunities between private and public trading multiples, market share gains to influence pricing, and compelling demographics in particular geographic markets, like Florida.
Florida Market
In Florida, we have these seen national consolidation trends play out in our own backyard for three primary reasons – our size, growth and customer diversity.
Florida is now the number one home building state in the union – bigger than Texas, bigger than California. In fact, Florida is on track to exceed PCE's estimated 180,000+ single-family permits for 2004, shattering California's previous record of 163,000 in 1989.
Big Three Home building States – Figure 2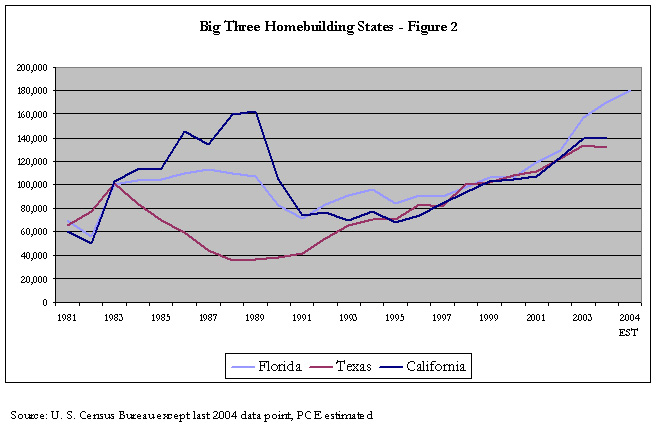 To put this into perspective, Florida represented more than 11% of the entire U.S. homebuilding market in 2004. By itself, Florida issued more single-family permits than 23 states and the District of Columbia combined.
Florida presents an impressive geographic sweep of development range from large tract developments, to high-rise condo projects. For single-family detached homes, as in presidential politics, the I-4 corridor is dominant with Orlando and Tampa representing the top two metropolitan markets in the state. Tampa and Orlando account for more than 25% of the entire state's single-family permits.
Florida Major Submarkets – Figure 3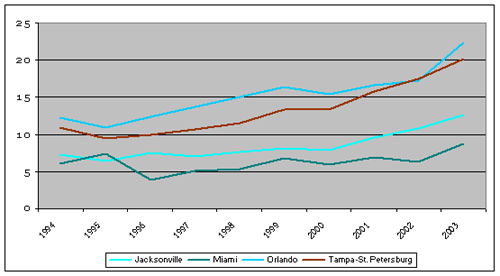 Growth. Nationwide in 2004, new permits pulled grew an impressive 10% over the prior year. Florida is poised to double that growth rate, even with the significant constraints of four named hurricanes and building material shortages.
Remarkably, Florida ranks among the fastest growing states for single-family permits in America. The shear volume of additional new homes required to match small state growth patterns typically excludes large states from the fastest growing category. Over the four year period ending 2003, Florida's 10%+ compound annual growth rate for permits ranks as fourth in America, surpassed only by the burgeoning "population centers" of Hawaii, North Dakota and Wyoming.
Wyoming needed an additional 800 housing starts to rank in the top three; Florida required an additional 50,000 to its based of 106,000 starts in 1999. Hawaii added 2,852 new housing permits between 1999 and 2003 to capture the highest growth rate, while Florida added nearly 18 times as many permits over the same time period to fill its top four status.
Figure 4
Even though November home sales were down nationwide and for Florida from October, it is hardly noteworthy because November has historically trended as a slow housing month. When comparing November 2003 to November 2004 home sales for both the nation and Florida, we see a solid increase of 15% and 23% respectively.
Florida Permit Growth 2003-2004 – Figure 5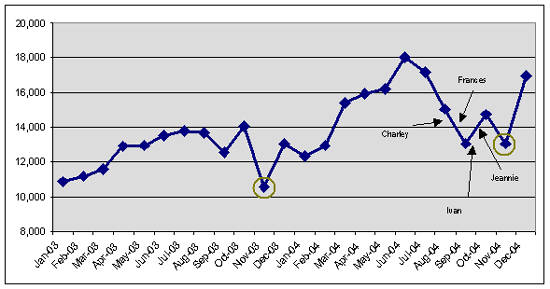 PCE believes that many of the perceived constraints of 2004 did nothing more than push closings forward into 2005. With many builders holding record backlogs, we expect a robust 2005 with solid demand driving additional growth across the state, but particularly across the I-4 corridor.
Diversity. A competitive advantage for Florida is its customer and housing product diversity. Florida boasts the trifecta of homebuyers: primary, retirement, and foreign. While home buying is driven by interest rates, these Florida home buying sectors have independent drivers creating the demand.
Figure 6

The graying of America will continue to fuel the active adult homebuyer market in Florida. The Baby Boomers heading into their 60's will add to Florida's already booming retirement housing market.
A weak and weakening dollar abroad fueled strong demand from international buyers. With the dollar heading for all time lows against the Euro, we have seen an increase in foreign buyers, particularly from Britain, purchasing second homes or retirement homes in Florida. We expect this trend to continue.
This diversified customer portfolio mitigates Florida's exposure to national or regional economic downturns. (See Figure 2, which compares Florida's low trajectory decline in 1990 compared to the steep fall off Texas in 1983 and California in 1989.)
Home Building Valuations
Enterprise values of the publicly listed homebuilders suffered from the much anticipated spike in interest rates during March and April 2004 and then again from an earnings warning for the third quarter. The steep incline for the 15-year and 30 year fixed rates during this time frame turned out to be a spike rather than a trajectory, and long term rates have settled back down towards their previous lows.
Interest Rates 1999-2004 – Figure 7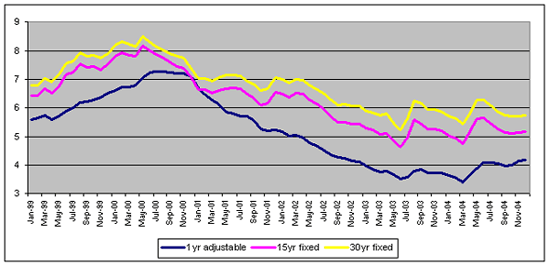 During March and April of 2003, the national homebuilders lost 20-25% of their market value. Builders have gained most of that loss back over the duration of 2004, ending up or at near record values.
Home builder Values May 2002 – August 2004 – Figure 8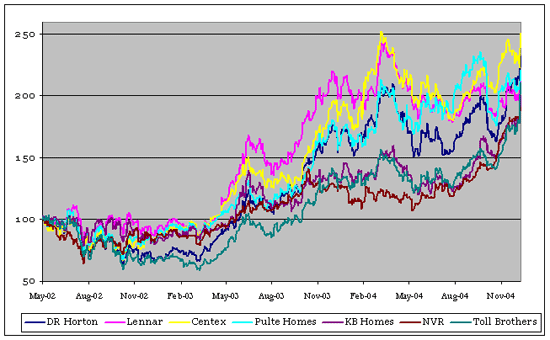 Across the board, homebuilders are trading at attractive multiples, averaging more than 7.5 times EBITDA and two times book. While record backlogs of orders going into next year would suggest a strong performance for Florida builders in 2005, high rates may diminish the growth rates of housing starts in more rate sensitive geographies away from Florida.
Banks and homebuilders are similar in their consolidation objectives. In both markets, the larger firms are acquiring mid-sized firms to increase market share within their fragmented market. We expect the top home builders to target profitable operations with sizable backlogs, especially in geographic markets like Florida.
If you have comments or questions about this article, or would like more information on this subject matter, please contact us.