Volume and price are inversely related – the flip sides of one coin. Classically, the lower the price, the higher the volume and vice versa. Florida homebuilding turned this relationship on its head with accelerating prices and volumes from 2001-2005 before collapsing volumes and declining prices ever since.
So long as the growing economy produces jobs and interest rates remain low, Florida churns out steady increases in housing starts and permits. That smooth, upward trajectory spiked abnormally northward beginning in 2003 and continued on a torrid pace throughout 2004 and 2005 as the market peaked at 258,000 permits, a national record. Compared to the more normal growth curve (averaging the years 1991-2003 as more representative), this indicates overbuilding by approximately 120,000 units.
Florida Permits Issued
*Blue Shaded area volume is 119,345
Compared to historical averages, the market appears to have over-reacted with permits collapsing in 2006 before falling to a low of 98,000 units in 2007. If the market doesn't return to its "expected" absorptions until 2009 or 2010, the under built volume of 260,000+ units will far exceed the overbuilding by a factor of more than 2-to-1.
Florida Permits Issued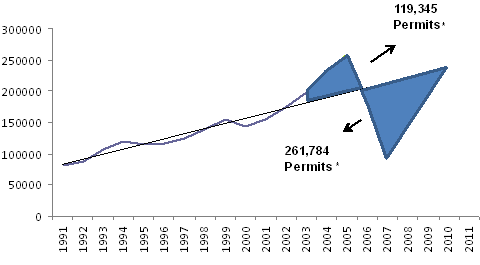 * Blue shaded area indicates volume of 119,345 permits and 261,784 permits respectively
Given the market concerns regarding a recessionary environment, a flat line "normal" from 2002-2009 favors the downside model by generating a 135,000 unit overbuild, but still leaves a significant under build volume of 215,000.
Florida Permits Issued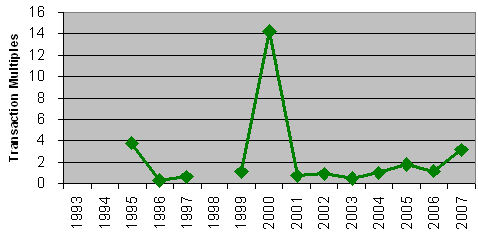 *Blue shaded area indicates volume of 135,845 permits and 215,584 permits respectively
However, consider the same analysis with regard to pricing. Again the smooth upward trajectory spiked abnormally northward, but not until 2004, a year after permits rose above historical growth rates. Prices continued to rise, even in 2006, falling much less dramatically in 2007. Intuitively, this matches the expected delay between sales contract and closing. A "return to normal" would seem to indicate a further price reduction is required. But sales prices have fallen farther than the historical chart would indicate, as the price for houses sold in the fourth quarter are not fully reflected in the average pricing until 2008. Furthermore, concessions some builders continue to offer to buyers are resulting in lower purchase prices than reported.
Florida Median Sales Price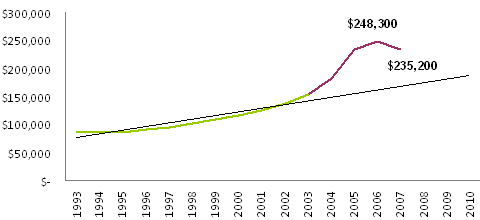 What ingredients combined to cause the inversion and drive the irrational exuberance? Two fundamental economic drivers, coupled with one quasi-political objective triggered a "tulip" cycle.
The fundamental drivers were:
Economic expansion combined with solid job growth
Affordability – low interest rates accompanied by aggressive mortgage products
The quasi-political objective stemmed from Washington's effort to extend the American dream of home ownership to marginal borrowers and the resulting response from willing co-conspirators, the mortgage brokers. The combination created the sub-prime loan market in which previously unqualified buyers joined the market.
The "tulip" of "irrational exuberance" cycle was further exacerbated by investors hoping to arbitrage the increase in price from contract to closing.
In retrospect, affordability was the prime mover that triggered the second two factors (speculators and sub-prime borrowers) who subsequently played the leading role in driving both the sharp uptick and the precipitous retreat.
Affordability. As the Federal Reserve rapidly moved to lower the Fed Funds rate in 2001, the interest rate for one-year adjustable rate mortgages plunged from 7% in 2000 to under 4% in 2003. This represented a 45% decline in interest costs, a much larger benefit than that realized in the 30-year instruments.
Interest Rates
Monthly payment on a $235,000 (Florida's average house price) mortgage fell from $1,834 in 2000 to $1,279 in 2003. Calculating 30% of personal income allocated to housing costs (mortgage, insurance & taxes), that would require a minimum of $58,000 of annual income from the borrower. This decline brought mortgage payments to within 50% of the median income of Florida households in 2003 ($39,000). In 2000, that same ratio would have been a 100% premium over the median income of Florida households.
This foundational swing in affordability triggered an irrational cycle.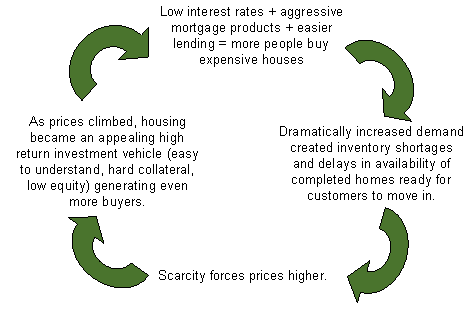 Declining housing values and retrenched credit approval criteria have reversed the artificial upward pressure. The unwinding of their positions is now largely responsible for depressed demand. Unlike previous housing downturns, the current collapse has occurred in a relatively attractive interest rate environment coinciding with economic growth and job creation.
Back to Fundamentals
Affordability (interest rates) and job growth are the backbone of the housing sector. With the aggressive moves of the Fed to lower rates late 2007 and early 2008, mortgage rates have followed suit, improving the affordability index. Therefore, the impact of the new rate environment should stabilize and improve demand for new housing product, particularly in markets where job growth remains strong.
While the rate of growth in non-agricultural jobs slowed for Florida for 2005 and 2006, it remained in positive territory in 2007. Whether this holds firm in 2008 is the wild card for the recovery of Florida's housing industry.
With a keen eye towards affordability and job growth, we expect that the majority of price corrections are already reflected in today's selling prices, but will continue to show up as declines in closed contracts through the second quarter. We further expect volumes to show buoyancy in the third quarter or fourth quarter 2008.
If you have comments or questions about this article, or would like more information on this subject matter, please contact us.