At this point, nearly everyone has election fatigue. The long, acrimonious campaign and extended ballot counting have exhausted us all. The most likely outcome appears to be a divided government. Vice President Biden will be our next president. The Republicans are favored to win control of the Senate and the Democrats will maintain control of the House of Representatives. There is a small chance that the Democrats gain control of the Senate, but that would require the Democrat candidates in Georgia to win the two runoff elections on January 5th. While such a scenario is possible, it is not likely.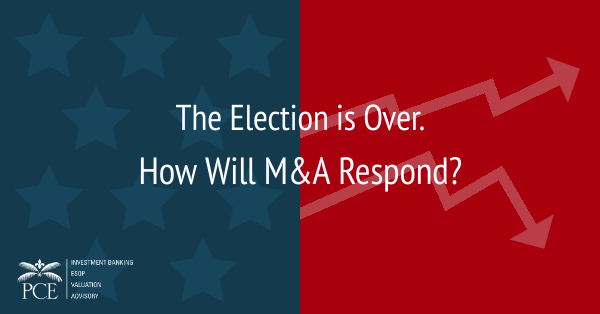 The M&A Forecast Looks Promising for Many
The stock markets have reacted well to this prospect, and M&A should follow suit. M&A activity had already picked up significantly, starting in the middle of this year with a wave of closings expected before the end of 2020. Activity is expected to remain strong heading into 2021 as owners who have performed well during the pandemic continue to receive significant attention from buyers and a premium to their valuation.
All the ingredients are in place for vigorous M&A activity to continue. Expectations are that the economy continues to improve, although there are some concerns about COVID-19 and what will happen this winter. A shutdown similar to March and April seems unlikely, but the economy might hit a bump if that happens. Combine an improving economy with low interest rates, strong corporate balance sheets, and significant capital held by private equity groups, and you have the recipe for high levels of M&A activity.
While this sounds good, not all sectors of the economy will be treated equally. The sectors that have performed well through the pandemic will continue to see high levels of interest. Other sectors that suffered a drop in performance but have bounced back will start to see increasing levels of interest as they demonstrate that revenue and profits have returned to pre-pandemic levels. Sectors of the economy that continue to be negatively impacted by the current economic conditions will not see good valuations or much interest from buyers. Buyers in those sectors will continue to wait for signs that the economy is heading back to normal levels and that interest in these products and services returns, and most of the activities that will take place will be restructurings and distressed sales.
If the Democrats do win two of the yet-undecided seats and gain control of the Senate, we would expect M&A activity to pick up significantly. With control of Congress and the White House, the Democrats will most likely pass legislation they support, which would presumably include a larger COVID relief package, expanded infrastructure spending, and a number of other initiatives, including taxes. The most significant impact might be the result of increased personal income taxes at the higher income levels, higher corporate tax rates, and an increase in the capital gains tax. Historically, we have seen a significant expansion in M&A activity prior to any tax increases. This phenomenon occurred at the end of 2010 and 2012 when the George W. Bush tax cuts were set to expire. We would expect to see a similar spike in 2021 as business owners seek to sell during a lower tax environment, maximizing their proceeds.
A Healthy Economy, Low-Interest Rates & Substantial Cash Bodes Well
No matter who controls the Senate, we expect to see high levels of M&A activity in 2021. An improving economy, low-interest rates, and substantial levels of cash waiting to be invested will provide all the momentum necessary for a robust M&A market. Active buyers are aggressively seeking opportunities for growth as the economy recovers. If your company has performed well through this period or is bouncing back, this might be the right time to consider a sale. Please contact us if you have any questions.
407-621-2100 (main)

201-444-6280 Ext 1 (direct)

407-621-2199 (fax)