The M&A Advisor recently announced Mackenzie Moran, a Vice President for PCE, as one of the recipients of the 13th Annual Emerging Leaders Awards.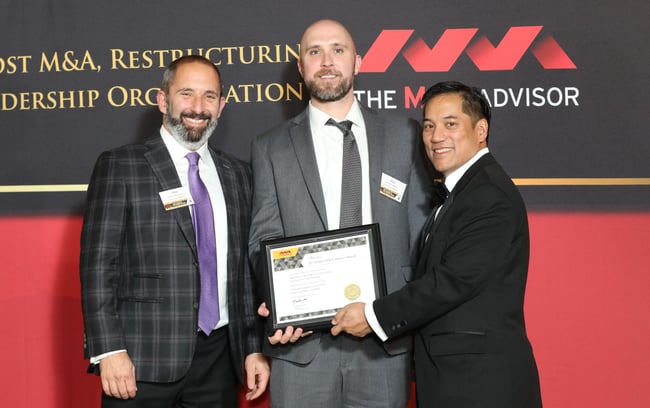 The M&A Advisor, renowned globally for recognizing leading M&A and finance professionals, created this awards program to promote mentorship and professional development amongst emerging corporate finance and dealmaking industry leaders.
Moran was chosen from a pool of prominent nominees for his notable accomplishments in business and service to the community. An independent judging panel completed the evaluation and selection of the nominees.
"The Emerging Leaders Awards were born as the '40 Under 40 Awards' in 2010 to recognize and celebrate the achievements of young M&A, Financing, and Turnaround professionals who have reached a significant level of success and made notable contributions to their industry and community. With the challenges undertaken over the past two years, the 2022 award recipients join a truly remarkable, global network of outstanding young professionals," said Roger Aguinaldo, Founder and CEO of The M&A Advisor.
"Mack is well-respected among his colleagues and consistently thinks ahead on deal transactions to keep the process moving forward efficiently. It's clear that Mack is poised for continued professional growth and exceptional achievements and is certainly well-deserving of this award," stated Michael Rosendahl, Shareholder of PCE.
Moran is an investment banker at PCE, where he primarily advises middle-market companies on mergers, acquisitions, and recapitalizations. Through in-depth market research, financial analysis, and valuation modeling, Moran delivers superior value for his clients. Moran is a licensed CPA and a CFA level III candidate.
View the complete list of the 2022 Emerging Leaders award winners.
Now in its 24th year, The M&A Advisor was founded in 1998 to offer insights and intelligence on mergers and acquisitions, establishing the industry's leading media outlet. Today, the firm is recognized as the world's premier leadership organization for mergers & acquisition, restructuring and corporate finance professionals. www.maadvisor.com.