The recent events in Ukraine are likely to have significant effects on the global market for natural gas with the likely winners being non-Russian companies that fulfill the demand for this commodity. Current events have proven that Russia, whose credibility in this sector was marginal to begin with, cannot be counted on as a partner that can reliably deliver natural gas to customers. Today, Russia is the dominant provider of natural gas to many European countries, due to their abundant supply. Although there is great economic incentive for Russia to build a consistent and reliable supply chain, this natural resource has become a political weapon for the Russian government.
In 2009 Russia shut off supplies to the national oil and gas company of Ukraine and other parts of Europe due to a dispute over payments to Gazprom and allegations of syphoning, but was largely viewed as the Russian government attempting to influence events in Ukraine. Many countries saw the warning sign and tried to diversify the supply of natural gas and decrease their dependence on Russian natural gas. Unfortunately, this has not happened fast enough and the current events in Ukraine are forcing many countries to find alternatives to Russia. However, companies that serve this sector in countries such as the United States will benefit from this shift to stable providers, and continue to be coveted by acquirers.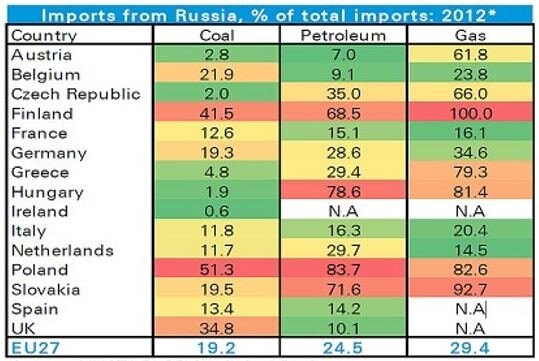 Source: UNCTAD, BP Statistical Review
The U.S.'s oil and gas sector is likely to be one of the primary beneficiaries of the recent political turmoil. With its abundant supply, the U.S. will soon become an exporter of liquefied natural gas (LNG). What is currently missing is the infrastructure to convert natural gas to LNG for export. Today, a number of permits have been issued and construction has begun on facilities to export LNG. Additional permits are under review and may be approved soon, which will further enhance America's ability to export LNG. Exportation of LNG won't begin in earnest until 2015, with additional capacity to come online in 2017.
What will this mean to the United States and the companies that serve this sector? The ability to export will increase the price of natural gas domestically, but this will also spur further development of shale gas wells and other resources that could not be economically developed at the low prices experienced over the last several years. Prices in the U.S. have increased recently due to the very cold winter, but that is a short term development which will not fundamentally alter the natural gas market.
As the infrastructure is put in place and further development is undertaken, this already strong sector will benefit even more and fundamental growth will be further enhanced. Merger and acquisition activity should follow suit. The already strong demand for companies that are well positioned in this sector will continue to grow. Previously, there were already many robust factors that would warrant investment is this sector. The recent circumstances in Russia will create even greater benefits for the companies that seek to invest and/or acquire companies in this sector.
If you have comments or questions about this article, or would like more information on this subject matter, please contact us.