The optics and photonics industry has been important to Central Florida ever since efforts by state leaders to expand Florida's economy beyond its dependence on tourism and citrus in the 1980s. Initiatives by visionaries such as Bill Schwartz led to the founding of Florida's laser industry and the 1986 establishment of the Center for Research in Electro-Optics and Lasers (CREOL) in Orlando.
Shedding Light on Optics & Photonics M&A
M&A activity in this interesting segment can be divided into four distinct periods:
The 1993-1997 post-Cold War years were tough times as struggling defense firms sought non-defense diversification. These years were even tougher for distressed defense-oriented optics & photonics firms that ultimately were acquired at rock-bottom prices.
The new economy boom were bonanza years for owners who received outlandish prices between 1998 and 2000. Optical component companies were very much in demand for telecommunications, network and internet applications.
The new economy bust proved timing is everything. Enough said.
The roaring return of defense markets since 2003 offered entrepreneurs who missed out on the boom a second chance by re-orienting their businesses on defense markets.
A Focused Look at the Current Period
Figure 1 clearly shows that deal activity since 2003 is at a sustained high level that has never been seen before, not even during the 1990s defense consolidation era.
Although we probably will never again see new economy pricing, Figure 2 shows that prices sellers have been receiving have steadily risen since the bust.
Figure 1. Middle Market Acquisitions per Year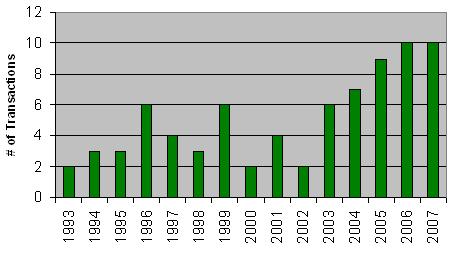 Middle Market defined as deals <$100M annual revenues. Source: PCE analysis
Figure 2. Middle Market
Median Acquisition Price/Sales Multiples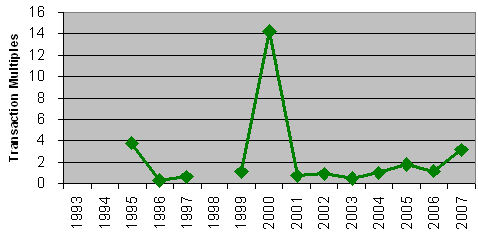 Unlike the 1990s, this current wave of consolidation is driven by buyers seeking attractive growth opportunities rather than sellers desperately seeking to rationalize excess industry capacity.
How Long Can this Last? Drivers of Deal Activity & Pricing Over the Next 12-18 Months
Important economic fundamentals from the broader aerospace & defense (A&D) sector will be at work in sustaining M&A activity and prices in the optics and photonics segment :
Strategic buyers are holding record levels of cash as a result of recent high levels of government defense spending.
Despite recent turmoil, stock prices of strategic buyers are at relatively record highs – even though analysts unanimously anticipate increasingly tight defense budgets. Reasons are as varied as pressure to reduce government deficits, the eventual draw-down of U.S. military involvement in Iraq and leadership changes in the White House in 2009.
The combination of hordes of cash and performance expectations embedded in strategic buyers' stock prices will drive an exercise in capital redeployment over the next 18 months. In other words, strategic acquirers will be "buying growth."
Beyond Eighteen Months – The Bottom-Line
Make no mistake about it. We unequivocally believe the following:
Defense budgets will grow at smaller rates compared to previous years, placing downward pressure on prices paid by acquirers. (Note: We did not say budgets will decline. We are relatively bullish on defense regardless of who occupies the White House in 2009).
Consolidation of the optics and photonics segment WILL continue. Strategic buyers will pay above-market prices for companies that provide access to key customer segments or fill gaps in critical or important emerging technologies.
SPIE Defense + SecurityConference
PCE Investment Bankers will be at SPIE Defense + Security.
If you have comments or questions about this article, or would like more information on this subject matter, please contact us.