Foreign Acquirers

In the years preceding the recent recession, foreign acquisitions of U.S. based companies annually represented approximately 13% of all U.S. M&A transactions. Foreign activity in the market was building through the middle part of the past decade and culminated in 2007 with record highs of 1,480 foreign acquisitions. In the twenty years preceding 2007, foreign acquisitions had only surpassed 1,000 annually twice (2000 and 2006).

As the U.S. progressed through the recession, foreign acquisitions slowed at a faster rate than the overall U.S. M&A market. In 2009 foreign acquisitions represented 11% of all U.S. M&A transactions and continued to decline to 10% in 2010. The main reason for the decline was the lack of European buyers. Historically, European buyers have been the most active foreign acquirers in the U.S. M&A market out of any region. (Regions, for this purpose, are defined as Europe, Latin America and Caribbean, Africa/Middle East, Asia/Pacific, and Canada). In 2007 European buyers acquired 685 U.S. based companies (45% of all foreign acquisitions) and in 2010 this number was 465 (38% of all foreign acquisitions). In contrast to European buyers, Canadian buyers have remained steadfast in investing in the U.S. In 2010 Canadian acquisitions of U.S. based companies reached 403, compared to 343 in 2007.

Starting in Q4 2010, the U.S. M&A market made steady gains that lasted through the beginning of 2012. Growth in the market has been driven by domestic buyers as foreign acquisitions have remained stagnant since Q4 2010. While the number of foreign transaction has rebounded to pre-recession levels, its percentage share of the overall U.S. M&A market has continued to decrease. In Q1 2012 and Q2 2012, foreign acquisitions represented 9% of all U.S. M&A transactions. These are the only two consecutive quarters below 10% over the past eight years.

Domestic vs. Foreign Acquirers by Volume (Quarterly)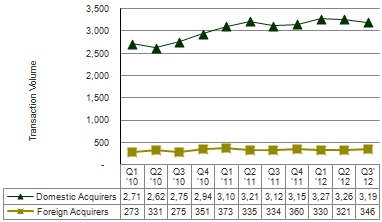 Market Activity
Q3 2012 was another strong quarter for the U.S. and Canadian M&A market, continuing the streak of quarters with transactions in excess of 3,500 to eight consecutive quarters. Transaction volume by strategic and private equity ("PE") buyers, depicted in the graph below, has been at a plateau for the first three quarters of 2012. While the volume of transactions has remained near historic highs, the market has fallen short of expectations. Coming into 2012, and throughout the first three quarters, expectations were for U.S. and Canadian M&A market to push well past the highs set in 2011. Buyers have been sitting on considerable levels of excess capital for too long. It was believed that transaction volume would pick up significantly in 2012 as buyers would utilize the excess capital, however this has not happened and transaction volume has declined in every consecutive quarter in 2012.
As we push closer to the Presidential Election on November 6, market participants are becoming more hesitant. The upcoming election will have noteworthy impact a number of industries. Some of the biggest uncertainties lie around the healthcare industry and the aerospace & defense industry. Depending on who wins the presidential election, it will have a significant effect on the course of Obamacare and sequestration. Buyers and sellers in these industries, and others, are hesitant to go forward with an M&A transaction knowing that the results of November 6 can produce two divergent paths.
Private Equity vs. Strategic Buyers by Volume (Rolling 12-month)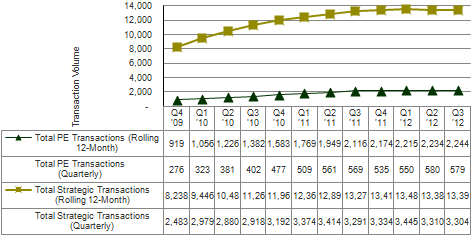 Outlook
The U.S and Canadian M&A market will close out the year with another strong quarter in Q4 2012. The market will remain robust, but stagnant. There are two counteractive factors that will influence market activity in Q4 2012; expiration of low capital gain rates and the presidential election. Transaction volume will be expected to surge in Q4 2012 as sellers try to take advantage of the low capital gains rate. Countering this will be the uncertainty of the presidential election. It is expected that transaction volume will be hindered until 2013, as it will take until then to process the election results and the possible benefits and ramifications of the election winner.
If you have comments or questions about this article, or would like more information on this subject matter, please contact us.