On April 9, 2020, the Federal Reserve announced the Main Street Lending Program ("MSLP"), which it established to provide $600 billion in loans to small and midsize companies that have been economically impacted by COVID-19 and were in sound financial condition before the pandemic. However, the MSLP has been unsuccessful at providing immediate assistance to many small businesses that desperately need funds.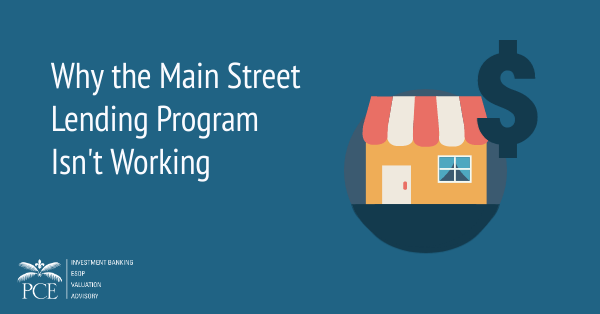 The Federal Reserve operates the program by purchasing 95% of new or existing loans to qualified employers made by participating lenders. However, this structure actually discourages lenders from participating because they would be responsible for 100% of the administrative burden while receiving only 5% of the benefit. What's more, the new secured debt would have priority over any preexisting loans, so by extending an MSLP loan to a current borrower, the lender subordinates its existing claims in the borrower's capital structure.
Since lenders are not incentivized to lend through the MSLP, the program has not helped the majority of suffering businesses in need of immediate liquidity. The Federal Reserve reported the program has almost 400 loans committed or settled as of October 30, 2020, totaling $3.7 billion, or just less than 0.62% of the total $600 billion available.
Because businesses struggling as a result of the pandemic are less likely to obtain senior debt or financing through the MSLP, these businesses should consider alternative financing options, such as those discussed in the following PCE articles:
Although the MSLP might not be the saving grace the Federal Reserve intended it to be, business owners have other options for financing their business through this uncertain time. The optimal capital structure is different for every company and is often a combination of debt, equity, and hybrid securities. PCE regularly advises clients on raising capital using a structure that best fits their goals. Please contact us today to learn more.
407-621-2100 (main)

201-444-6280 Ext 3 (direct)

407-621-2199 (fax)