The digital agency landscape is constantly evolving and business owners in the space must pay close attention to key areas of their business to maximize value in a sale process. Buyers of digital agencies are looking for companies with strong customer relationships, a scalable growth strategy, and a proven ability to execute.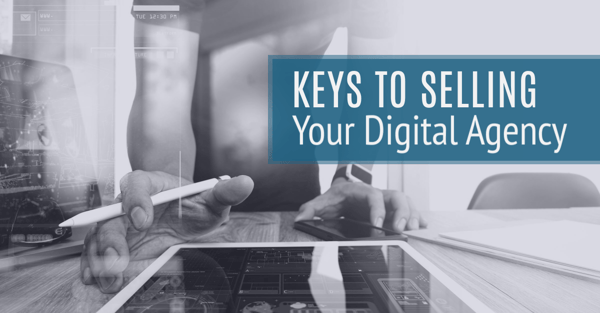 Following the eight essential steps below will enable you to think through your digital agency business from the perspective of a potential buyer, allowing you to highlight your company's strengths, identify areas for improvement, and ultimately position your company for a successful sale transaction.
Highlight Your Proven Growth Strategy
Buyers look for agencies with a track record of steady revenue growth and a scalable strategy for both new customer acquisition and increasing business with existing customers. Making the right investments in your sales team and marketing activities can generate substantial returns and demonstrate your company's potential to grow revenue for the foreseeable future. Hiring talented salespeople, advertising online, attending industry events, and developing compelling content are all ways to generate brand awareness and new business opportunities.
A well-developed sales pipeline demonstrates your agency's strong reputation in the market and the promise of a healthy flow of new revenue. For potential buyers, a solid sales process and effective marketing strategies are a positive sign of discipline around your sales and marketing function—and proof of significant growth opportunities for the business. Additionally, by growing a diverse stable of customers now, you can avoid any overconcentration that might cause concern among buyers.
Develop a Strong Backlog of Revenue
Revenue backlog is unrecognized revenue associated with an existing customer contract that has not yet been invoiced or collected. Because this brings a level of predictability and stability to your agency's cash flow, it can be a valuable selling point in the eyes of prospective buyers.
To build a solid backlog of revenue, focus on securing long-term contracts with your customers. These contracts should clearly outline the services you will provide, the expected duration of the contract, and the associated fees. By securing these contracts, you'll create a solid base of guaranteed income that likely can increase the value of your business.
Maintain Good Financial Reporting
Making sure your financial records are in good order—including balance sheets, income statements, and cash flow statements—is an excellent way to give buyers a clear picture of your agency's financial performance and discipline over time. To ensure this information is readily available, up-to-date, and accurate, consider hiring an accounting firm to help you put together financial reports for at least the past three years plus the most recent trailing 12-month period. This professional approach will instill greater confidence in prospective buyers regarding the accuracy of the financial information you provide.
Additionally, tracking unearned revenue—payments received for work that has not yet been completed—is particularly important. Unearned revenue is common among digital agencies, where customers pay upfront for a project that will unfold over a certain period; be sure to accurately track the progress of each project so you can calculate unearned revenue at any given time. This will give eventual buyers a more accurate picture of your agency's financial health and cash flow.
Track and Analyze Key Metrics
Key metrics related to how your advertising campaigns perform and how prospective customers respond to them can reveal what you're doing well — another way to demonstrate the value of your agency to potential buyers. As you track and analyze the following metrics, also consider the crucial insights they offer into areas for improvement:
Click-through rates (CTR) indicate the percentage of people who click on a link in your ad or email.
Conversion rates reveal the percentage of people who complete a desired action on your website, such as filling out a form or making a purchase.
Cost per click (CPC) is the average cost you pay for each click on an ad.
Return on ad spend (ROAS) measures the revenue generated by a customer for every dollar you spend on advertising.
Buyers will also want to analyze the following metrics as they relate to your business's customer acquisition cost, retention, and overall satisfaction:
Customer acquisition cost (CAC) indicates the cost to your business of acquiring a new customer, including marketing and sales expenses.
Customer lifetime value (CLTV) points toward the total amount of revenue a customer generates throughout their relationship with your agency.
Churn rate is the percentage of customers who stop using your agency's services over a given period of time.
Net promoter score (NPS) measures how likely your customers are to recommend your agency to others.
By examining these metrics on an ongoing basis, you can not only make data-driven decisions to optimize your agency's performance but also demonstrate to prospective buyers the effectiveness of your campaigns and the strength of your customer relationships.
Demonstrate Project and Customer Profitability
Potential buyers will always be on the lookout for evidence of your agency's ability to generate consistent performance for all your accounts. To demonstrate profitability on a more granular level, you will need to have a system in place for keeping tabs on your revenue and expenses at both the project and customer levels.
Using project management software or a financial management system can ensure that you are accurately tracking the finances associated with each project and account. Tracking this level of detail reveals your agency's ability to deliver value and also shows buyers your operational expertise when it comes to monitoring the performance of your business.
Clean Up Your Accounts Receivable
Having significant overdue receivables can negatively impact your agency's cash flow and profitability. It can also be a red flag for buyers, who may see it as a sign of poor financial management or strained customer relationships. Using an aging report to consistently track your accounts receivable will allow you to identify any overdue payments and work to collect them as quickly as possible.
In certain instances, you may need to write off as bad debt receivables that are unlikely to be paid. Do your best to start the process of selling your agency with a clean accounts receivable aging report, as good financial discipline and solid collection practices will make your business more attractive to potential buyers.
Establish Your Competitive Advantage
Many other agencies probably offer similar services to yours, so potential buyers will want to know how your business stacks up against the competition. Be ready and able to communicate your unique value proposition, which could involve focusing on a specific niche, offering specialized services, or providing exceptional customer service. Emphasizing your agency's expertise in certain areas, your track record of successful projects, or your long-standing relationships with customers will help establish key points of differentiation that will be attractive to the right buyer.
Prepare for Success
Preparing your digital agency for a sale can be a complex process but positioning your business for a successful outcome is easier when you start early and commit to a comprehensive plan of action. To ensure a smooth and successful path to closing on a transaction that meets all your goals, consult with an investment banker before beginning the sale process.
PCE's team of credentialed investment bankers and valuation experts is available to help you prepare to sell your digital agency and maximize the value you can command. Whatever goals you wish to accomplish through the sale of your business, our team can define, analyze, and present solutions that allow you to take those essential steps toward success.