PCE Investment Bankers, a leading financial services firm for mid-market companies, is pleased to announce the sale of Florida Metal Products, Inc. (Flamco) to OmniMax International (OmniMax), a portfolio company of SVP Global. PCE served as the exclusive advisor to Flamco, a leading manufacturer of residential roofing products throughout the Southeast and Southwest markets.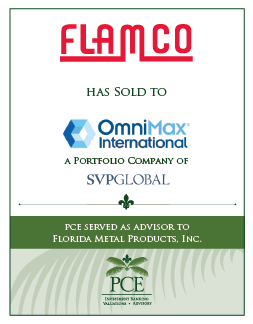 "We are excited to join the OmniMax family and continue to grow the great business we have built," said Lee Jones, President of Flamco. "Our employees see this as the perfect opportunity to join the industry-leading brands and serve our customers in even more creative and valued ways."
Mr. Jones continued, "We are grateful for the advisory support we received from PCE in helping us find the best buyer for our family-owned business. PCE listened and understood the issues important to us which allowed us to obtain our goals for the transaction. With PCE's support we were able to maintain efficient business practices while still undertaking this transaction."
Established in 1923, Flamco operates three state-of-the-art manufacturing plants in Florida, Texas and Illinois, and three strategically-positioned distribution centers in Colorado, Missouri and Illinois. Each facility serves the unique manufacturing and product needs of each market.
"The merger of the two companies creates an impressive alliance," commented Michael Poole of PCE. "Together, these companies will have the ability to provide superior service and a greater range of products to residential builders across the United States."
OmniMax is the leading national manufacturer of residential building products and a top supplier of outdoor living, recreational vehicle, and other building end markets with approximately $700 million in sales during 2020. As America's market leader in the residential roof drainage market, OmniMax has an unrivaled scale, top brands such as Amerimax and Berger, and longstanding relationships with the nation's largest home center retailers and building product distributors.
Flamco will operate as a subsidiary of OmniMax and be integrated into its residential segment in a complimentary manner to OmniMax's residential building and roof drainage products, including its Berger brand.
About OmniMax International
The Company's high-growth outdoor living business is a manufacturer of outdoor shade and exterior structures through brands such as Equinox, Alumawood, and Knotwood. OmniMax's commercial segment supplies made-to-order metal roofing, wall panels, and architectural products for large, custom jobs under the Fabral and CopperCraft brands. The Company is also a leading supplier to the recreational vehicle industry, benefiting from strong outdoor recreation and living trends. OmniMax International is owned by funds managed by Strategic Value Partners, LLC and its affiliates (SVPGlobal), a global investment firm with more than $10 billion in assets under management, established by Victor Khosla in 2001. Learn more at www.omnimax.com and www.svpglobal.com.
About Flamco
Florida Metal Products (Flamco) is a leading manufacturer and distributor of quality residential building products, providing a full line of accessories and components for residential roofing and siding. With manufacturing locations in Jacksonville, FL, Waco, TX and Chicago, IL, Flamco services a national customer base with the strong geographic presence in the Southeast and Southwest, as well as an emerging focus in the Midwest. www.flamco.com