PCE Investment Bankers, a leading financial services firm for midmarket companies, is pleased to announce the sale of Waychoff's Air Conditioning (Waychoff's) to Strikepoint Group Holdings (SGH), a residential home services company. PCE served as the exclusive advisor to Waychoff's, a leading air conditioning services provider.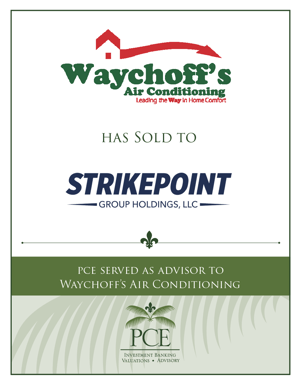 "We are thrilled to be a part of SGH and look forward to leveraging their strong operational infrastructure, which will enable the staff at Waychoff's to focus on what we are known for, delivering exceptional customer service," said Rich Waychoff, founder of Waychoff's.
Charlie Haines, CEO of SGH, prizes Waychoff's customer-centered approach and hopes to take their service to the next level. "We love having entrepreneurs like Rick Waychoff show us how they've built such a great reputation, and [we] want to help them find new ways to serve their customers. We know they'll be an excellent addition to the SGH family of brands."
Mr. Waychoff continued, "We could not have made this transition without the help of PCE. Our primary goal was to find a partner who would value the brand and reputation we've built over the years. The PCE team understood our objectives and guided us through the transaction process to find us the ideal partner."
Established in 2001, Waychoff's grew from a single truck to a fleet of over 30 trucks. The company serves residential customers throughout Jacksonville, Florida, and the surrounding areas with air conditioning repair and installation services.
Holland & Knight, LLP provided legal representation for Waychoff's. Morgan Lewis represented SGH.
About Strikepoint Group Holdings: Founded in 1987, Strikepoint Group Holdings is one of the largest and most referred home services companies in the United States, specializing in heating, air conditioning, plumbing, drain cleaning, electrical, and indoor air quality. Formerly known as Horizon Group Holdings, SGH is based in Newark, Delaware. Since 2017, the SGH portfolio has expanded organically and through numerous acquisitions along the east coast of the U.S.
About Waychoff: Based in Jacksonville, FL, Waychoff's Air Conditioning opened in 2001. It is a customer-focused company providing air conditioning services in the Jacksonville, St. Johns, and Porte Vedra Beach areas of Florida. It provides 24/7 service and never charges an overtime fee.