HOFFMAN ESTATES, IL - PCE Investment Bankers, Inc., a leading financial services firm for mid-market companies, is pleased to announce that the shareholders of Nussbaum Transportation Services (Nussbaum) have sold an interest in the company to the Nussbaum Employee Stock Ownership Plan (ESOP) Trust.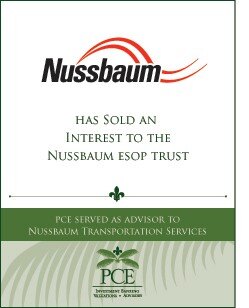 Founded in 1945, Nussbaum is a leading contract carriage and truckload service provider. Centrally located in Hudson, Illinois, Nussbaum serves customers throughout the Midwest and across the continental U.S.
PCE guided Nussbaum from initial education through the feasibility study, providing them a road map of their many options. PCE remained at the forefront through the ESOP formation process including structuring and raising capital and following through on closing in an effective manner.
Brent Nussbaum of the Company commented "On behalf of the Nussbaum family, we are excited to announce that we have brought our employees into ownership of Nussbaum Transportation. It is our goal to protect the nearly seventy-five-year heritage and culture of Nussbaum by rewarding our loyal and dedicated employees, and the families that have been responsible for our success. We look forward to building and preserving the future of Nussbaum together."
Eric Zaleski of PCE commented, "Nussbaum, its shareholders and employees have excellent core values. The ESOP will compliment these values and allow Nussbaum to retain and attract loyal employees. Additionally, the ESOP sets Nussbaum apart within the industry by providing another employee benefit. We have been blessed to work with Nussbaum on achieving everyone's vision."
About: Nussbaum Transportation Services, Inc. provides freight transportation and trucking services. Its services include dedicated contract carriage and regional and national truckload. The company caters to automotive parts, building and construction materials, food and dry and refrigerated products, heavy equipment, non-hazardous chemicals, steel and raw finished products, tires, and wholesale and retail distribution sectors. Nussbaum Transportation Services, Inc. was founded in 1945 and is based in Hudson, Illinois. https://www.nussbaum.com/
If you have comments or questions about this article, or would like more information on this subject matter, please contact us.