CHICAGO, IL - PCE Investment Bankers, a leading financial services firm for mid-market companies, is pleased to announce that the Steinhafels family has sold its stock to an Employee Stock Ownership Plan (ESOP), making the company 100% employee-owned.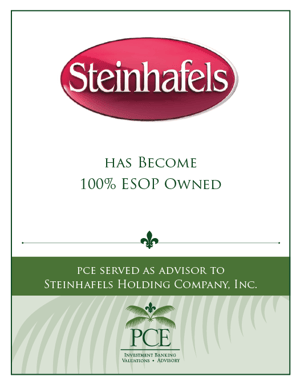 Gary Steinhafel, Mark Steinhafel, Ellen Steinhafel-Lappe, and Andrew Steinhafel decided to secure the future of the business while acting in the long-term best interest of Steinhafels associates.
"Each time our family has transitioned the business to a new generation, we have tried to balance doing what's right for our associates with ensuring the long-term health of the company," said Gary Steinhafel. "Our news today is about securing the future of Steinhafels for all of us for many years to come. Steinhafels is more than just a business to us. It is our family legacy. Deciding to move forward as an employee-owned company helps to ensure that that legacy continues into the future."
For the past 87 years, Steinhafels' mission has been to serve its customers with high-quality furnishings and provide its associates with a stable, secure, and rewarding work environment. The shift to employee ownership will help preserve Steinhafels' culture as a family business that values its associates, customers, and communities they serve.
"We believe that becoming an employee-owned company allows us to leverage our greatest strength, and that is our valued associates. Being part of an employee-owned company means that our associates will benefit directly from the company's continued success," said Steinhafels' President, Andrew Steinhafel.
Steinhafels associates will participate in the ownership of the company through an Employee Stock Ownership Plan. Similar to a profit-sharing plan, an ESOP is a long-term retirement benefit plan in which associates will be granted shares of the company on an annual basis. These shares will vest over several years and have a share price based on the company's success.
Through this change, Steinhafels will remain a family-led company. Andrew Steinhafel will serve as president and will lead Steinhafels with the support of Mark, Ellen, and Gary, along with the executive team.
"The structure and day-to-day operations of our business will remain exactly the same, but as an employee-owned company, the success of Steinhafels is directly tied to the efforts of the employee-owner associates more than ever before," added Andrew Steinhafel.
PCE guided the Steinhafels' ownership and team through the ESOP feasibility study, which provided a road map of their many options. PCE efficiently managed the ESOP transaction process, including structuring the transaction, negotiating with the ESOP trust on behalf of the selling shareholders, and ultimately delivering every desired goal.
Eric Zaleski of PCE stated, "throughout the decision-making process, Steinhafels' ownership set up the ESOP to provide further benefit to their most prized asset – the employees. It was clear from the start that the iconic Steinhafels' name and brand would be the ideal candidate for a very successful ESOP, which will enhance its already strong company culture. I am very appreciative of Gary, Mark, Ellen and Andrew, and their team for having a clear vision and then allowing PCE to execute for all involved."
Andrew Steinhafel added, "We partnered with PCE due to their vast knowledge and expertise in structuring and closing a transaction and appreciate all the guidance and leadership that Eric and the PCE team provided from start to finish in the ESOP transaction."
About Steinhafels: Since 1934, Steinhafels Furniture has been a family-owned, locally-operated business providing quality home furnishings, mattresses, and home décor to southeastern Wisconsin. Steinhafels is Wisconsin's leading retailer for furniture and mattresses, with more than 550 associates and 16 locations in Wisconsin and northern Illinois. www.steinhafels.com