Humans are wired to take the path of least resistance. It's not that we're lazy; we just don't want to do more work than is necessary to get results.
That's why private company executives were happy to see the passage of ASU 2014-02 Intangibles – Goodwill and Other, which allows private companies to elect an accounting alternative to the traditional GAAP (generally accepted accounting principles) standards pertaining to goodwill. The accounting alternative greatly simplifies accounting for goodwill – and typically lowers the cost as well.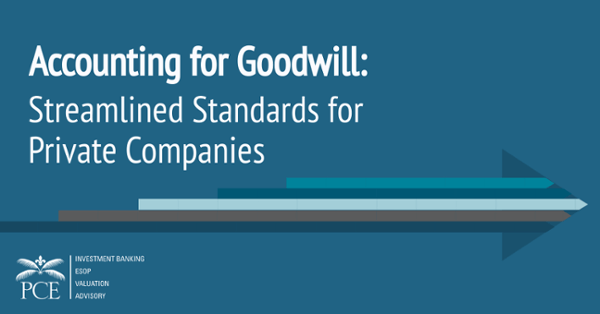 What Is Goodwill?
Goodwill is defined as the residual amount recognized in a business combination after all other identifiable assets acquired and liabilities assumed have been recognized at fair value. Under GAAP, companies are required to carry goodwill on their financial statements at its initial value.
Private company executives have long lamented that this traditional way of accounting for goodwill after initial recognition justifies neither the related costs nor the complex requirements. Furthermore, those who prepare and audit the financial statements of private companies have indicated that the goodwill impairment test performed under GAAP provides only limited information in terms of making useful decisions. In fact, most users of private company financial statements generally disregard goodwill and goodwill impairment losses in their analysis of a private company's financial condition and operating performance.
Treatment of Goodwill Using Traditional GAAP Standards
Prior to the ASU 2014-02 alternative, private companies were required to work within the confines of GAAP. For each reporting unit, goodwill was tested for impairment at least annually – or more frequently if certain conditions existed.
If a company determined it was more likely than not that the fair value of goodwill was less than its carrying value (i.e., book value), then a quantitative two-step impairment test is required.
Step 1: Determine the fair value of the reporting unit.

This generally requires involvement by external valuation professionals. If the reporting unit's fair value is less than its carrying value, including goodwill, then the company must proceed to Step 2.

Step 2: Calculate amount of Impairment.

The amount of impairment is determined by comparing a company's fair value (or that of the reporting unit) with its carrying amount, including goodwill. The excess carrying value (including goodwill) over fair value, if any, represents the impairment loss
Leveraging the Accounting Alternative
Private companies now have the option of electing the accounting alternative or ASU 2014-02 which requires the following procedures:
Goodwill is amortized on a straight-line basis over 10 years (or less than 10 years if the entity demonstrates that a shorter useful life is more appropriate). Prior to ASU 2014-02, there was no amortization of goodwill, although an impairment write-down was possible.
Test goodwill at either the entity level or the reporting unit level. Previously, all testing was at the reporting unit level only.
Test goodwill for impairment when an entity (or a reporting unit) experiences an event or a change in circumstances that indicates a likelihood of its fair value being below its carrying amount (i.e., more than 50% likely). Prior to the new accounting alternative, each reporting unit's goodwill had to be tested for impairment at least annually, as explained earlier.
Measure goodwill for impairment by comparing the entity's (or reporting unit's) fair value with its carrying value. Prior to ASU 2014-02, a two-step goodwill impairment test was required.
Advantages of the Accounting Alternative
Neither publicly traded companies nor certain employee benefit plans are eligible to elect the ASU 2014-02 accounting alternative. But private companies and nonprofit entities of all types can realize many benefits of choosing this option.
Annual impairment testing is not required. Companies that elect the goodwill accounting alternative can expect annual savings due to the reduced frequency and complexity of the impairment test.
Amortization of goodwill should reduce the odds of impairment. The new rules could allow private companies to perform impairment testing less often.
Changes to Impairment Testing
Private companies should take steps to incorporate certain changes brought about by the passage of the relatively new standards. First of all, they must make an accounting policy election: Should they test goodwill for impairment at the entity level or the reporting unit level?
Another change, as discussed, permits entities to dispense with testing goodwill for impairment on an annual basis. Instead, a determination is made at the end of each reporting period as to whether a triggering event – a change in circumstances that indicates the fair value of an entity (or reporting unit) may be below its carrying amount – has occurred.
Examples of a triggering event include a deterioration in general economic conditions, an increased competitive environment, an increase in the cost of raw materials or labor, negative or declining cash flows, and changes in key personnel. When such an event occurs, an entity has the option to assess qualitative factors first, to determine whether a quantitative impairment test is necessary.
If the qualitative assessment indicates greater than 50% likelihood that the goodwill is impaired, then the entity must perform the quantitative test to compare its fair value (or that of the reporting unit) with its carrying amount, including goodwill. The excess carrying value (including goodwill) over fair value, if any, represents the impairment loss.
The impairment charge cannot exceed the book value of goodwill allocated to the entity or reporting unit.
Should Your Company Elect the Goodwill Accounting Alternative?
Although your company now has the option to exercise the accounting alternative, that doesn't necessarily mean it should do so. Your company's future plans must be carefully assessed to determine the most appropriate method in your specific situation.
If a private company operating under the accounting alternative decides to go public or is acquired by a public company, then its financial statements would have to be retrospectively adjusted to remove the effects of goodwill recognition and measurement realized under the goodwill accounting alternative. Amending the financial statement to retrospectively remove those effects could be complex and expensive. So if there is a reasonable possibility of going public or being acquired by a public company, then electing ASU 2014-02 may not be the right decision for your company.
Regardless of what may or may not happen in the future, private companies should communicate with their various stakeholders before using the goodwill accounting alternative, to make sure this path is acceptable to them. Equity investors, lenders, regulators, and so forth may not accept financial statements that use the alternative. Keep in mind, if a company does elect to make this change, the additional amortization expense will have a negative impact on future earnings. On the other hand, it will have no effect on EBITDA, which many analysts primarily rely on.
ASU 2014-02 could be the path of least resistance for many companies and their executive team, as long as each company carefully evaluates the intrinsic pros and cons. Applauding passage of this accounting alternative doesn't mean you're lazy; you're just too smart to exert any more effort than necessary to get the results you desire.
407-621-2100 (main)

678-641-4760 (direct)

407-621-2199 (fax)