There are thousands of firms offering investment banking services in the United States. So how do you choose the right one or BEST one for you? Below, we describe the different categories of investment banking firms and provide a list of widely recognized firms that offer quality services. There are too many firms to list all of them. We used third-party research and have provided website links to the lists. However, these are not comprehensive lists of quality investment banking firms, so the absence of a firm name does not imply that the firm lacks competence.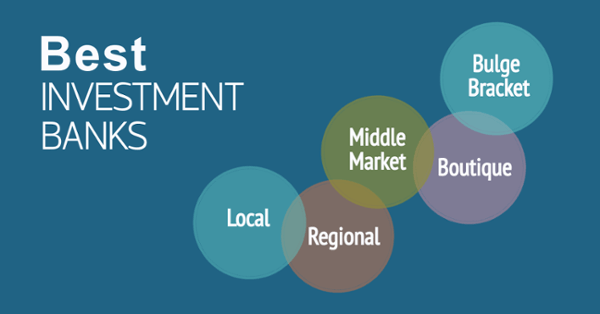 These lists are at risk of criticism by the various investment banking firms that were left off. So, apologies to all, as no ill will is intended.
Here are a few independent lists of investment banking firms:
We list investment banking firms only. All investment banking firms are licensed with the SEC and FINRA. These firms are highly regulated and operate under stringent rules and guidelines. Regulations enforced by FINRA and the SEC help ensure that you are receiving the professional services you need. You can easily conduct a background check on https://brokercheck.finra.org/ to research both the firm and the individuals that you are considering to hiring. We did not include business brokers or M&A advisors on the list due to the absence of regulations and formal background checks. You can learn more about the difference between investment bankers and business brokers/advisors in our article here.
Choosing the best investment banking firm for you depends on numerous factors, such as deal size, firm experience, services provided, and geography. Above all, you need to hire an investment bank that you TRUST. You need to trust the advice given by your investment banker to have a successful process and transaction. Otherwise, you will be reluctant to provide crucial information that will help the investment bank get you the best deal.
Investment banking firms come in all shapes and sizes. While we (and others) have segmented firms in the various classifications below, some will disagree with our suggested labeling of firms. This is because there is significant blurring between the classifications, especially in smaller firms. Think of a Venn diagram of overlapping circles. As you read below, you will learn that there are no clear lines of distinction between many investment banking firms.
We have segmented investment banking firms into the following categories: Local, Regional, Middle Market, Boutique, and Bulge Bracket.
Local Investment Banks
Local investment banks have one location and just a few senior bankers. Therefore, these firms concentrate on companies located in the immediate vicinity of their office location. Because local firms are geographically focused, they typically do not have an industry specialty. These firms are known as "generalists."
Offered services are traditional advisory investment banking services and include selling, buying, ESOP, equity and debt raises, and restructuring. However, due to size, most local firms will focus on just a few of these services.
Most of a local firm's transactions will be less than $30 million; however, all will seek much larger opportunities. Yet, the level of service required by a larger transaction makes it difficult for local firms to compete with the more prominent regional and middle market investment banks. Local firms might self-describe as "lower middle market." The list of local investment banks is too long to list here. These firms are usually found through referral sources, such as attorneys, accountants, and wealth managers. PCE started as a local investment bank, as did many of the firms on these lists.
Regional Investment Banks
Regional investment banking firms will most likely have two or more offices, more than four senior investment bankers, and substantial support staff. Regional firms have a larger staff, which allows them to develop industry specialties. The industry focus could take them all over the country, challenging the characterization of "regional." However, regional firms will not take small engagements unless they are close to an office. Traveling across the country to pitch (an investment bank marketing term) to a small company is not cost-effective. Therefore, you will see that most engagements of a regional investment bank are within three to four hours of drive or flight time.
Services are like those found in the larger middle market firms—M&A advisory, ESOP, equity and debt raise, and restructuring. Again, regional firms might focus on only a few of these services but provide a few others. Regional firms typically focus on transactions below $300 million to avoid competing against better-known national middle market investment banks. Remember, however, that all these firms can manage transactions of significant size, but they have found marketing to the middle of the middle market more productive. PCE fits into this category.
Middle Market Investment Banks
Most of America's investment banking firms can be categorized as middle market, with firms focusing on transactions below $1 billion. However, since there is a wide disparity between firm size, services provided, and industry experience, defining these firms more narrowly helps you better match your needs with the proper firm.
So, for this listing, we define middle market investment banking firms as those targeting transactions between $500 million and $1 billion (with the caveat that all will do smaller and larger transactions). These firms have strong national coverage, deep knowledge, and experience across many industries. Many will have international offices. Middle market investment banks will provide the traditional advisory services expected of an M&A firm.
Boutique Investment Banks
Boutique investment banks rival the bulge bracket investment banks in reputation and ability to provide M&A services. Bankers who left bulge bracket firms started many of the boutique firms. The distinguishing characteristics between the two types are the size of the firm and what services it offers. You will see boutique investment banks competing successfully on the largest transactions nationally and internationally, but they might not have the depth of services that the larger firms have.
Bulge Bracket Investment Banks
Bulge bracket investment banks represent the elite in global finance. These institutions are well-known names found around the world and provide a plethora of financial services—M&A, advisory, IPOs, research, securities trading, wealth management, and many innovative services. Their primary clients are the major multinational corporations that require substantial financial resources and technology to support operations on a global platform. Typically, bulge bracket firms work on transactions valued above $1 billion; however, you can find firms willing to go slightly lower depending on the firm and industry. All investment banking firms will shift to lower transaction values in a slower market.
Firms typically identified in this category are JP Morgan, Goldman Sachs, Morgan Stanley, Bank of America Merrill Lynch, Citi, Barclays, Deutsche Bank, Credit Suisse, and UBS.
We believe this that this overview of investment banks will help you find the right firm to help you through your transaction. Remember to read the how to choose the right investment bank here.