Selling your business can be an emotional experience for a business owner, especially if running the company has been a significant part of your life for many years. Perhaps you've decided to sell in order to cut back on stress, uncertainty, or some related response—only to find that the selling process comes with its own emotional consequences. If so, you're not alone.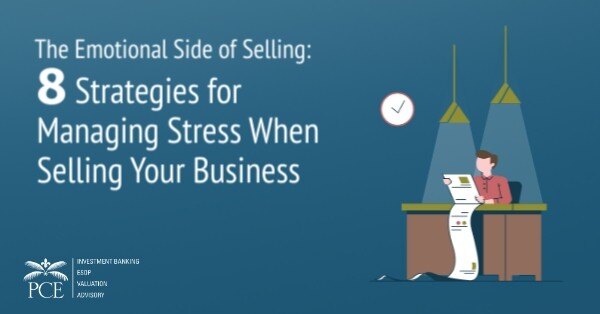 What Emotions Can You Expect During the Sale Process?
No matter your industry, market, or geographic location, you're likely to encounter a variety of emotions when you decide to sell your middle-market business. Here are a few of the most common emotional issues:
Fear of the great unknown. Selling your company—your most valuable asset—is not an everyday occurrence. The process is unfamiliar to most business owners, and facing the great unknown can make for an uncomfortable, unsettling sensation. Perhaps you worry about making the wrong decision or wonder what the future will hold after the sale of your business. You may also be afraid of letting go of something that has been such a substantial part of your life.
Discomfort with due diligence. The process of due diligence—drilling down on legal, accounting, insurance, human resources, and other areas to understand how the business operates—can be tedious, intrusive, and downright uncomfortable. As a business owner, you're required to provide the company's life story through all sorts of documentation so potential buyers can assess opportunities as well as risk. Buyers ask a lot of questions, and while small and midsize companies tend to operate on trust, due diligence offers the added security of verification. Most business owners just aren't used to this level of questioning—or to being second-guessed and even criticized over their decisions.
Uncertainty over the loss of control. If you're like many business owners, the business is an extension of yourself and a source of pride and personal accomplishment. Selling it can make you feel like you've lost control, as though you're relinquishing a key element of your identity. The prospect of an uncertain future—both yours and your company's—may lead to a whole heap of worries: Will the new owner treat the employees well? Will you be able to find a new career or direction? Now that you're not in control of the business, what is your purpose?
Grief and sadness. Letting go of something that has been a meaningful force in your life may bring on natural feelings of grief and sadness. When you face any major life change, it is important to recognize grieving as a normal part of the process. The sale of your business is likely to create a sense of loss, especially if it has been a source of identity, pride, and accomplishment.
Guilt and regret. Selling your business may bring feelings of regret, especially if you believe that you could have done more to make it successful or that you're leaving opportunities on the table. As you consider employees or other stakeholders who will be affected by the sale, you may even feel guilty about selling. Worrying about the impact on your employees and whether you're making the best decision for all parties involved can be incredibly stressful, even after the transaction is complete.
Plain old anxiety. The act of selling a business can be stressful and time-consuming at best, and many business owners sometimes feel overwhelmed by the day-to-day demands of the process. You certainly won't be the first business owner to find yourself worrying about the possibility of the sale falling through or about the terms of the sale not being favorable to you and your stakeholders.
How Can You Confront and Overcome the Emotions Behind Selling?
As a business owner looking to sell, you'll want to recognize and address any emotional issues that pop up as you navigate the process. Here are eight proven strategies you can use to overcome the emotional issues that could threaten the sale of your business:
Educate yourself. Learn about the process by researching how companies are sold. In addition to the plethora of information available on the internet, your lawyers and accountants can provide true insight into the sale of companies like yours. And the more you educate yourself, the better you can control your emotions and achieve your goal.
Prepare, prepare, prepare. Make sure that your company is ready for inspection. Do not wait for a Letter of Intent to arrive before you start getting your house in order. Instead, start your preparations before you even begin to seek buyers or sign an NDA. A buyer knocking on your door unexpectedly, before you're ready, is the last thing you want before you are ready.
Understand your buyer. To get the most out of your meetings with potential buyers, you need to understand their motivation. Why would a buyer want to invest in your particular company? Remember that you are marketing your company, and start with an approach similar to how you research prospective customers looking to buy your product or service. Gathering knowledge and insights will build your confidence when it's time to negotiate.
Seek support. Talk to someone about your feelings, whether it's a friend, a family member, or a professional therapist. Having someone who is willing to listen and offer support can help you feel less alone and better able to cope with your emotions.
Plan for the future. One way to ease anxiety about the unknown is to make plans for the future. This could involve setting financial goals, researching potential new careers or ventures, or making a list of exciting things you want to do after the sale of your business. Having a plan in place can help you feel more in control of your future.
Remember your motivations. It can be helpful to remind yourself of the reasons you are selling your business. Do you want to retire or pursue a new opportunity? Are you looking forward to spending more free time with family and friends? Focus on your motivations, and you'll feel more positive about the decision to sell.
Be open to change. Selling your business marks the end of one chapter and the beginning of another. By embracing change and being open to new experiences, you can more easily move on from the past and embrace whatever comes next.
Take care of yourself. The process of selling a business can be emotionally and mentally draining. Taking care of yourself is crucial, so be sure to get enough sleep, eat well, and take breaks when needed. Exercise and other self-care activities can also help you manage stress and emotions.
Selling a business can be a difficult and emotional process, especially if the business has been a key part of your identity while providing financial security and stability. By using these eight strategies to face and overcome these emotional challenges, you can enjoy success throughout the sale process—and move on to the next stage of your life with confidence and optimism.