As a business owner, you might consider the sale of your company. The food and beverage industry has experienced increased activity in this area over the years, particularly in the middle market sector. Buyers are diverse – strategic, private equity, ESOPs, and internal sales.
Understanding how to market your business is one of the essential strategic items that you need to address as early as possible to drive the valuation and efficiency of the transaction. Specifically, it is vital that you understand the critical components of your business before beginning the sale process, given the importance of timing in an M&A transaction.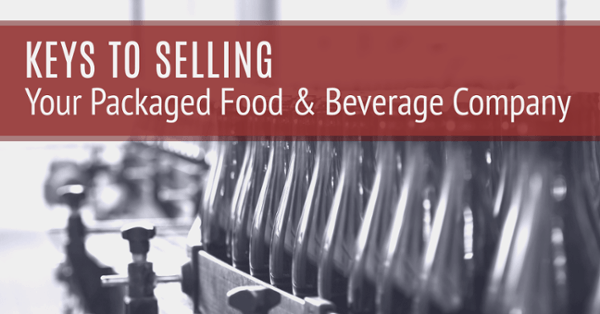 Here is an essential checklist of industry-specific considerations and metrics to which you should pay close attention to increase valuation and allow for an efficient transaction. Carefully consider the items on this list—some of which are in the form of questions that you should be able to answer. Doing so will ensure that, as a packaged food and beverage producer, your company is ready to be sold—or otherwise marketed or valued.
To supplement this article, please refer to our Guide to Selling Your Business.
Conscious Consumers and Food Safety
Health and well-being are active topics discussed across numerous industry sectors. Ensuring consumer demand and market trends align with your company's product portfolio is extremely important in an industry in which consumer preferences drive industry performance.
As health trends continue to gain momentum and consumers continue to eye food as "medicine" to boost health, producers of food and beverage goods that focus on and use organic, "free from," and "locally sourced" ingredients continue to fuel enhanced valuations. (Food Marketing Institute Foundation – Power of Health and Well Being in Food Retail)
Consumers in this market continue to focus on brand safety as part of the diligence performed at the time of purchase. Aligning the vision and mission of your company with market trends and consumer preferences will grow your company's market share and drive higher valuations.
Key items impacting valuation are:
Brand Reputation
Understanding consumer preferences (related to convenience in consumption, increased health awareness, etc.) and generating a strategic plan are crucial to boosting your company's valuation. Your company's selling shareholders should be able to show that the company has a consistent record of developing and distributing innovative, healthy food that meets the demands of its customers.
A strong brand reputation and platform can lead to brand loyalty, which can, in turn, generate an increased valuation. Therefore, your company should be able to identify the critical tenants of its brand reputation and what the brand stands for during the valuation process. Brands that have a robust platform can be expanded into new categories and sub-categories offering purchasers increased value.
Social media platforms allow companies the opportunity to engage directly with consumers, which can enhance brand trust and relevance. One important consideration is the humanization effect of brands on social media. By humanizing brands, companies can build trust and credibility by sharing personal stories of their products in ways that create an emotional connection. Food companies are increasingly focused on direct personal relationships with consumers, understanding that it is not social media itself that drives sales but rather the consumer conversations that social media generates.
A social media presence also allows brands a way of measuring consumer preferences and spotting burgeoning trends to respond with effective strategies.
Product Quality
How does your company work on sourcing ingredients needed to develop and produce its products?
How does your company audit suppliers to ensure that the products they are using meet consumer expectations?
Food Safety and Regulatory Compliance
(Private Equity & Food Safety Considerations for Investors)
Labeling Compliance: Companies need to undertake a thorough labeling review as part of the food safety due diligence process, given the advent of recent snacking and health food trends. Such labeling claims as "healthy," "natural," "GMO," and "gluten-free" should be audited for accuracy to minimize the likelihood that legal claims will arise.
Product Recalls: The food and beverage industry is second only to the automotive industry in product recall losses, accounting for 16 percent of analyzed losses across insurance companies. Given this preponderance of recalls in the industry, it is critical to understand the potential liability and probability of an FDA shutdown or product recall. You should ask yourself: How does my company track and resolve product recalls? Has my company mapped the risk to develop processes and procedures if an FDA shutdown or product recall were ever to occur? Then, identify and establish post-FDA risk improvement plans so that investors can understand how your company would be prepared to handle an event like this.
Environmental Footprint
Does your company do anything to mitigate the environmental output of any plants that it operates?
Does your company use and publicize any environmentally friendly corporate policies like recyclable packaging and waste management?
Operational Management
In an industry that operates with many stakeholders, strong operational management is crucial to mitigating liability that may arise during the transaction process. Packaged food and beverage producers work in an industry that caters to an ever-changing consumer. As consumer needs change, the business itself needs to be prepared to assess how quickly preferences are changing. A few key metrics have been itemized to help business owners identify changing trends and increase valuation.
Expanded Value Proposition
Product portfolio can be one of the most significant drivers of growth in the packaged food industry, responsible for 71 percent of the total growth achieved between 2008 and 2012. (Euromonitor) A diverse product portfolio drives brand reputation and loyalty, and potential buyers or investors will know that consumers rely on your company to source a variety of the packaged food and beverages that those consumers need.
Selling shareholders will need to understand the value of the product portfolio and be able to speak to growth within that portfolio.
Does your company have a consistent history of introducing new products to the market and innovating existing product lines to keep up with consumer trends?
Does your company currently have a strong innovation pipeline?
Employee Training Systems
In addition to implementing systems that guarantee quality control, your company must ensure that employees are routinely briefed and trained on all applicable food regulations.
Failure to comply can result in decreasing demand for your product, as your company can become susceptible to product recalls and (real or perceived) lack of product quality.
Operational Management of Distribution Logistics
Understanding your company's inventory turnover and order management (including how the movement of each of your company's products is reflected in its financials), as well as plant maintenance, are crucial to both understanding how efficiently your company operates and boosting its profitability.
Since buyers typically want to understand a company's performance and operations thoroughly before considering closing a deal, your company's executives and managers should be well versed in and adept at discussing and analyzing these things.
Dependability is often measured by On Time In Full ("OTIF") rates. OTIF measures the percentage of orders that are shipped on time in full. By this measure, a company can assess how successful they are at meeting client expectations. Typically, an OTIF of 98% is considered the unofficial gold standard; anything below 90% is deemed to be troublesome. Some companies use Case Fill Rate ("CFR") which always needs to be at 98% but does not take into account whether the order was delivered on time. Having an in-depth understanding of how dependable your company is will help drive value and efficiency.
Supply Chain and Distribution
Shoppers typically purchase food and beverage products at supermarkets and superstores. Most products pass through complex supply chains that move from growers, producers, and factories to wholesale food distributors and grocery store distribution centers. These distribution networks are optimal for large companies that operate with a significant amount of inventory. Larger packaged goods companies will operate at higher profit margins because their shipping and storage costs are lower. Other avenues, as they grow in popularity due to the rise of specialty goods, will begin to change and shape the industry.
Given the importance of a supply chain to profitability, investors will pay close attention to both the supply chain and distribution channels. For investors in this industry, supply chain and distribution channels are a significant focus, because they are the primary avenues companies use to produce and sell their packaged goods. Analysis of your operations is critical as global supply chains become more complex, and distribution channels continue to evolve with consumer preferences.
E-Commerce
As consumers begin to prioritize convenience ahead of their shopping needs, producers of packaged food and beverages need an established website to allow consumers to purchase their products online.
With home delivery services gaining popularity, package food producers can access the consumer by establishing an online presence and interacting with consumers directly.
To meet the growing demand for e-commerce food purchasers, your company must invest in e-commerce friendly packaging and differentiated sizes to meet the e-retailers and consumers' needs.
As these trends continue gaining momentum, your company needs to have in place processes that ensure that it can handle increased sales volume in an online marketplace.
Supply and Distribution Channels
Ideally, your company has flexible distribution agreements with distributors that are tailored to product assortments and service levels for regions.
Does your company have multiple avenues available if the central distributor relationship falls apart.
Confirm the existence of supplier approval processes to ensure that your company is sourcing products through suppliers that maintain strong quality controls.
Is the current network driving efficiencies?
Unilateral Competitive Analysis
Competition is the driving force that requires companies to think strategically continuously. A strategic plan enables a company to gain a competitive advantage over its competitors and begin to reap the benefits of innovative thinking. Given the importance of the food and beverage industry to consumers, your company needs to assess its place in the market and continue to develop a plan to ensure that its optimal market share is gained and sustained.
The dependency of humans on food and beverages creates a market for companies that are willing to listen to consumers' needs and are prepared to adjust their strategic plan as consumer preferences evolve. The following are a few crucial considerations as they relate to the competitive analysis of each product in the market. (Palgrave Macmillan - Business Logic for Sustainability: A Food & Beverage Industry Perspective)
Degree of Rivalry
Global multinationals, large companies supplying a limited range of national brands and increasingly supplying private label products, and SMEs that are often family-owned supplying local or specialist markets are the typical participants in the food and beverage manufacturing industry.
Given the intense nature of competition in this industry, companies have been relying on mergers and acquisitions to grow their products portfolio and increase their market share.
To offset national pressures, food and beverage companies are seeking emerging market consumers where the growth opportunities are much more significant. Leaders in the industry are using product differentiation, creative distribution channels, and reliance on supplier relationships to move away from a commodity-type market.
How does your company seek to outdo the competition and ensure its place in such a highly fragmented and competitive industry?
Threat of Substitutes
Participants in the food and beverage industry operate with a considerable threat of substitution as products gain popularity and notoriety.
Often, retailers incur low costs to switch to a substitute product, particularly with private label, which leads to increased price competition among producers. Participants also experience difficulty raising prices, as consumers can easily change brands and products.
Private Label brands are surging in popularity as brandless products gain momentum for prioritizing the product over the marketing. Retailers and Companies like "Brandless" are seeing increased demand from their private label products, which are priced competitively and typically generate higher profit margins.
Establishing brand loyalty is crucial to mitigating substitution risk. By fostering brand loyalty, producers can increase barriers to entry and make it difficult for retailers to switch products.
Your company can enhance brand loyalty by focusing on quality and environmental factors to ensure that supply aligns with consumer preferences.
How does your company manage the threat of substitutes, and how is it prepared to handle this threat? This is a critical component that all companies in this sector need to be prepared to explain to potential investors.
Prepare for Success
The competitive environment in the food and beverage industry operates in continuous flux. Global mega-trends are creating new dimensions to the competitive relationships among producers. Globalization has led to a breakdown of barriers and increased competition. The industry is further afflicted with changing regulations, consumer preferences, and technological innovations. Given how complex and ever-changing the business environment of the food and beverage industry is, you need to have a strong understanding of your company's position in the market. This analysis and effort will result in a clear, focused presentation on your company's strengths and potential weaknesses that can excite potential buyers and drive value for selling shareholders. The checklist provided in this paper is not all-inclusive, as each company has specific vital considerations. Consulting with an investment banker or advisor before beginning the sale process is of the utmost importance in ensuring a smooth and successful closing.
PCE has a team of credentialed investment bankers and valuation experts available to help you. Whatever you wish to accomplish, our team can define, analyze and present solutions that allow you to take the next step.