The decision to sell your business is an emotional one — after all, you built it; this is your "baby." Add in crucial factors such as the state of the economy, your health, and your financial well-being, and you face a challenging decision. You weathered the Great Recession, and now you're in the midst of coping with the COVID-19 pandemic; is this the right time to sell? The good news is that the right advisors can make this decision much easier.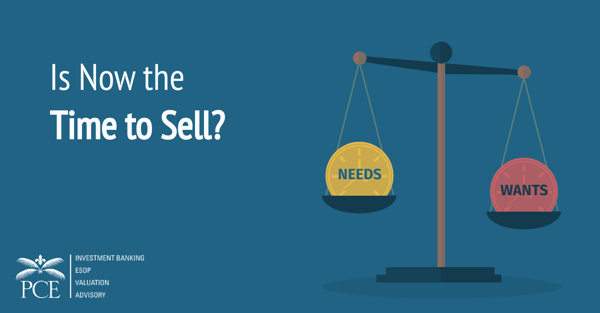 Obviously, you want to maximize the proceeds of your sale to ensure your family's financial security. How do you evaluate what your company is worth versus what you will need to retire?
What Is My Business Worth?
You should seek the answer to this critical question from a respected investment bank that works with privately held companies. Ideally, that bank will have extensive experience in your sector. The knowledge they have gained from working with similar businesses will be beneficial in determining your company's value. In addition, the investment bank should have access to transaction databases, such as Capital IQ, to help determine the value of your business. Once you have found a qualified investment bank, you will need to provide this type of information:
Previous year's and year-to-date financials

Addbacks (personal and one-time expenses) that will normalize your financials

Projections for the current year

Revenue by top customers

Purchases by top vendors

Details regarding any legal or regulatory issues

Backlog

Other key items specific to your industry
This information will be used to determine your EBITDA. Once the investment bank has determined your EBITDA and growth trends, they will be able to use that information as well as data from the transaction databases to determine the value of your business. Investment banks will often review transactions with EBITDA multiples, and possibly revenue multiples, to determine your company's worth. After completing this review, the investment bank will provide you a value range and a summary of the potential buyers for your company.
How Much Will I Need?
The next step is to determine how much you will need to live the life you desire after the sale of your business. A good wealth advisor can take you through a process to determine what you need and how to plan for the future properly. This advisor will have many questions for you, including:
How much is your business worth?

Do you plan to keep working after the sale of your business?

If so, for how long?

Do you have other sources of income?

What savings do you have?

Are there any significant expenditures you plan to make in the future?
The wealth advisor will be able to model out your investments, income, and expenses to determine how much you will need to live the life you want for you and your family.
Is Now the Time to Sell?
If the value of your business meets or exceeds what you need to secure your future, the decision is easier. Now might be the right time for you to consider a sale and examine your next steps. The last two recessions have taught us a valuable lesson about timing — if everything looks right financially and there are no strong reasons for waiting, you probably should not delay. Many times, we have seen business owners wait, only to find out that time is not their friend. Outside factors impact their business and they miss the window to sell at a good valuation. At that point, they must either commit to building the business back up or decide to sell for less than originally planned.
If the value of your business is less than what you need to live a certain lifestyle, you have a more difficult decision to make. You can wait and hope to grow your business until it provides the value you seek, but the timing risk described above can certainly be a factor. What stage are you at, professionally? If you are looking forward to working more years before you retire and you are willing to put in the effort to grow your business, then this might be the best path for you. If you are close to retiring and don't have the time or desire to do what it will take to achieve the higher valuation, consider what is most important (time vs. lifestyle) and use that as your guide. This is not an easy decision, but you must weigh what is best for you and your family.
You only want to go through the sale process once. It is time consuming and will require a significant amount of effort on your part. It can also be an emotional process. If you are not ready, now is not the time to pursue a sale. If you are ready or would like to be ready, follow the steps above to make the right decision.
PCE has helped many business owners in this situation, and we often tell people the time is not right. We can provide you a value range for your company at no charge, and if you do not have a qualified wealth advisor, we can introduce you to one. Please contact us if you would like to learn more.
407-621-2100 (main)

201-444-6280 Ext 1 (direct)

407-621-2199 (fax)