PCE Investment Bankers, a leading financial services firm for mid-market companies, offering clients a full range of investment banking, ESOP, valuation, and advisory services, is pleased to announce the sale of Design Display Group (DDG), located in Carlstadt, New Jersey, to Marketing Alliance Group. DDG is a premier display manufacturer for the prestige and fashion brands and retailers. PCE served as exclusive financial advisor to DDG.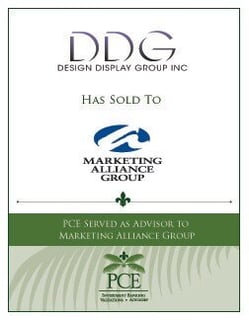 Marketing Alliance Group is a leading innovator and supplier of displays, fixtures, custom plastics, digital and offset large format printing, and fulfillment for Brands and Retailers. This latest acquisition will further enhance both companies design, innovation and operational excellence.
"We are excited to add DDG's manufacturing and design capabilities to our core competencies. This acquisition will provide Marketing Alliance Group with a manufacturing location in the northeast to better serve our customers," according to Bryan Hair, President and CEO of Marketing Alliance Group.
PCE's Michael Rosendahl stated "Marketing Alliance Group's acquisition of DDG will create an even more formidable player in the display industry. The combination of capabilities will better serve both sets of customers in the years to come."
"PCE did a great job and found a great home for the company Jonathon, Harv and I built" said DDG's President Andrew Freedman. "PCE worked tirelessly to get us the best deal possible. We are very pleased with the outcome and appreciate all of PCE's hard work during this process."
Design Display Group will continue to operate under the DDG name and current management as a division of Marketing Alliance Group.
About: PCE is a leading financial services firm for mid-market companies, offering clients a full range of investment banking, valuation and advisory services. PCE delivers M&A support, ESOPs, management buyouts (MBOs), bankruptcy advisory, restructuring, and fairness and solvency opinion advisory services. Additionally, the firm offers management consulting, succession planning, strategic analysis and litigation support. Experienced in all market sectors, PCE has established several specialty practice areas, including Consumer, Diversified Industrial – Infrastructure & Power, Healthcare, Construction & Building Products, Manufacturing, and Food. Offices in Orlando, Atlanta, Chicago and New York.
If you have comments or questions about this article, or would like more information on this subject matter, please contact us.