Hisco, an employee-owned, specialty distribution company serving the aerospace, electronic assembly, medical device and other industrial markets, announced the acquisition of online distributor All-Spec Industries. PCE Investment Bankers originated and served as financial advisor to Hisco.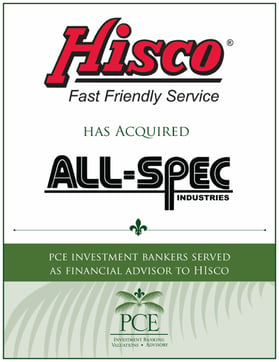 Hisco's commitment to high-quality products, technical expertise and local customer service has helped it grow to 34 branches across North America. All-Spec Industries is an online distributor featuring 30,000 items and a track record of shipping 97% of orders the same day they are received.
"This acquisition will clearly benefit our customers," said Bob Dill, President and CEO of Hisco. "Together, Hisco and All-Spec share impressive records as industrial distributors and offer complementary capabilities that will enhance our ability to serve the market."
"As one of the leading specialty distribution platforms in North America, Hisco has distinguished itself. The acquisition of All-Spec will further enhance its position in the market and provide value to all parties," stated PCE Investment Banker's Michael Rosendahl.
This is the second transaction that PCE has served as financial advisor to Hisco. PCE advised Hisco on its acquisition of TC Services in 2012.
About Hisco
For more than 40 years, Hisco has delivered value to customers through quality products, process solutions and local inventory. Today, the international branch network includes 34 stocking locations ― 23 in the United States (including Puerto Rico), ten operated by the HiscoMex subsidiary in Mexico and one operated by HiscoCan in Canada. Two Precision Converting facilities provide value-added fabrication and the AMG Division offers unique custom packaging solutions for adhesives, sealants and specialty chemicals. Hisco also offers vendor-managed inventory programs and specialized warehousing for chemical management, cold storage and logistic services.
About All- Spec Industries
With nearly 30,000 products available online and in stock, All-Spec Industries is a leading distributor of products for electronic service, repair and testing. The online store is dedicated to providing customers with the most seamless possible shopping experience. All-Spec achieves its 97% same-day shipping performance from a state-of-the-art distribution center in Wilmington, NC.
About PCE Investment Bankers
PCE Investment Bankers (www.pcecompanies.com) is a leading investment bank for middle-market companies, offering clients a full range of investment banking services including mergers and acquisitons, ESOPs, business valuations, litigation support, growth capital options, fairness opinions and advisory planning research. PCE Investment Bankers is experienced in all market sectors and has established several practice areas, including Consumer, Diversified Industrial – Infrastructure & Power, HealthCare, Construction & Building Products, Manufacturing, and Food.
If you have comments or questions about this article, or would like more information on this subject matter, please contact us.