PCE Investment Bankers, a leading financial service firm for mid-market companies, is pleased to announce the Alliance Graphics and Printing (Alliance) purchase by Hisco, Inc. (Hisco). This transaction marks the ninth buy-side transaction engagement in which PCE has served as the financial advisor to Hisco.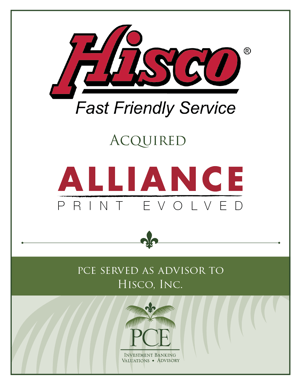 Hisco, headquartered in Houston, TX, is an employee-owned specialty distribution company serving aerospace, electronics assembly, eMobility, medical device manufacturing, and other industrial markets.
PCE continues to be our trusted partner when Hisco considers an acquisition," commented Bob Dill, President of Hisco. "PCE's advice throughout the process helped us structure a deal that will add value to all Hisco stakeholders. We couldn't be more pleased with the outcome."
Dill continued, "the acquisition of Alliance is a natural fit, as both companies share similar core values and a culture of customer urgency. Hisco is excited to expand our product offering through Alliance's exceptional label and print capabilities."
"This acquisition represents a logical extension of Hisco's growth. The addition of print and label solutions to Hisco's broad array of value-added services will strengthen its offering to customers," stated Michael Rosendahl of PCE. "With these capabilities, Hisco will benefit customers and foster growth simultaneously. Hisco has been a great client for over ten years. We appreciate Hisco's faith in us and look forward to continuing our relationship. "
Headquartered in Houston, Texas, Alliance is a solutions-based print & label company delivering supply-chain solutions, including a combined offering of digital storefronts, inventory management, mailing operations, fulfillment solutions, and print and video production.
About Hisco
Hisco's international branch network includes 35 stocking locations in three countries: the United States, HiscoMex in Mexico and HiscoCan in Canada. Hisco's Precision Converting facilities provide value-added fabrication, and its Adhesive Materials Group provides an array of custom repackaging. Hisco also offers vendor-managed inventory programs and specialized warehousing for chemical management, logistics services and cold storage. Hisco's exclusive Documented Cost Savings (DCS) program has saved customers more than $180 million to date. Its supplier base includes manufacturing giants Henkel, Alpha and 3M, to name a few. For more information, visit www.hisco.com.