Winter Park, FL– PCE Investment Bankers (PCE) is pleased to announce the sale of United Juice Companies of America (United Juice) to Perricone Juices. The transaction represents the purchase of the remaining shares of United Juice that Perricone Juices does not own. PCE served as the exclusive financial advisor to one of the shareholders of United Juice.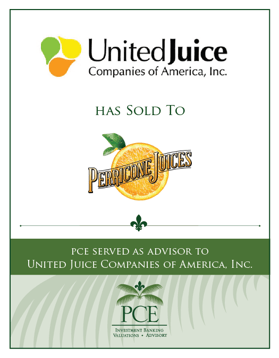 Headquartered in Vero Beach, Florida, and established in the mid 1980s, United Juice is a leading manufacturer and distributor of freshly squeezed citrus. United Juice serves customers, distributors and fruit vendors coast to coast with their state-of-the-art facility in Vero Beach, FL and a sister location in Beaumont, CA.
Perricone Juices is a family-owned manufacturer of citrus juice and the largest family-owned juice company in the United States. The company provides premium juices direct to consumers, to the food service industry, and specialty manufacturing companies across the nation.
The addition of United Juice to the Perricone team will expand Perricone's supply network and provide customers with juices across the United States.