CHICAGO, May 10, 2018 -- PCE Investment Bankers, Inc., a leading financial services firm for middle market companies, is pleased to announce that Krueger International, Inc. ("KI" or the "Company") has consolidated ownership of the company into the KI Employee Stock Ownership Plan ("ESOP") Trust.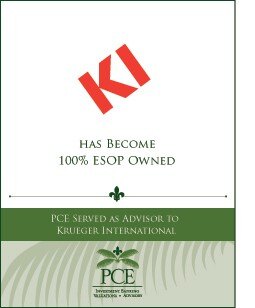 Founded in 1941, KI is an industry leading manufacturer of innovative, award winning contract furniture, movable walls and high-density storage systems. Headquartered in Green Bay, Wisconsin, KI employs more than 2,000 workers making them now among the 50 largest ESOP owned companies in the United States.
PCE worked with the KI team to guide them through the ESOP feasibility study which provided a road map of their many options. PCE efficiently managed the ESOP transaction process including structuring the transaction as well as raising the capital required to create the liquidity event.
Will Stewart of PCE stated, "KI has been an exemplary ESOP-owned company for years. For them to take the steps required to get to 100% employee ownership was the fulfillment of a vision that was already in place. We are proud to have worked with Dick Resch and the rest of the KI leadership team throughout the process and look forward to seeing KI thrive as a 100% ESOP owned company"
"The Company needs to remain in Green Bay," commented Richard Resch, CEO of KI. "For generations, employees have helped me build this company. My prime goal is to keep the employees working for KI here in Green Bay for generations to come. We are immensely pleased with the outcome and grateful for the expertise provided by PCE."
About: KI manufactures innovative furniture and movable wall system solutions for education, healthcare, government and corporate markets. The employee-owned company is headquartered in Green Bay, WS and operates sales offices and manufacturing facilities in the United States, Canada, Latin America, Europe and Asia. KI tailors products and service solutions to the specific needs of each customer through its unique design and manufacturing philosophy. For more information, visit http://www.ki.com.