PCE Investment Bankers is pleased to announce the merger of Next-Port, Inc. (Next-Port) with Merchants Export, LLC (Merchants Market Group). Next-Port is a third-generation produce distribution company with over a century of experience and expertise specializing in shipping high-quality fresh fruits, vegetables and other perishable foods to the Caribbean and South & Central America. PCE served as exclusive financial advisor to Next-Port.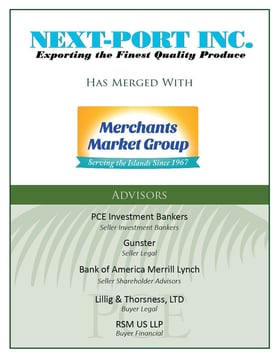 PCE was instrumental in helping Next-Port develop a customized sales process which included identifying and marketing to potential business partners, structuring the transaction and negotiating the deal for Next-Port. PCE remained at the forefront of the process to limit disruption to Next-Port's business operations during the process while focusing on providing expanded product and service opportunities to their customers.
"Next-Port had grown to the point where we needed to invest capital to grow and serve our customers with additional products and services," said Robert Netkin of Next-Port. "PCE Investment Bankers was an invaluable asset to help us assess our alternatives which lead to our merger with Merchants Market Group."
Founded in 1967, Merchants Market Group is the largest broad-line foodservice distributor to the Leeward Islands. The expansive Florida facility located at the Port of Palm Beach serves as the procurement and consolidation facility supplying their island distributors and customers. Merchants Market Group serves all the resorts, hotels, restaurants, grocery stores, hospitals, schools and other government agencies located in the Leeward Islands.
Dr. Eugene McEnery, the Chairman & CEO of Merchants Export, commented, "We believe together, Merchants Market Group and Next-Port, will achieve our shared vision of growth while continually enhancing the quality of our service to our customers. Next-Port's knowledge of produce distribution is unparalleled with any other distributor, and we are excited to have merged our operations.
"The merger of these two companies has the potential to be a win-win for the customers of both companies," stated David Jasmund of PCE. "Merchants Market Group customers will benefit from Next-Port's expertise in produce, while the Next-Port customers can now take advantage of the broad array of products offered by Merchants."