On their face Employee Stock Ownership Plans (ESOPs) appear to be a vehicle for employee ownership and not something that invites Private Equity Group (PEG) investment due to differing ownership structures. On the contrary, ESOPs and PEGs can co-exist in a mutually beneficial relationship. In many cases, PEGs view ESOP companies as having the exact characteristics they look for in target investments.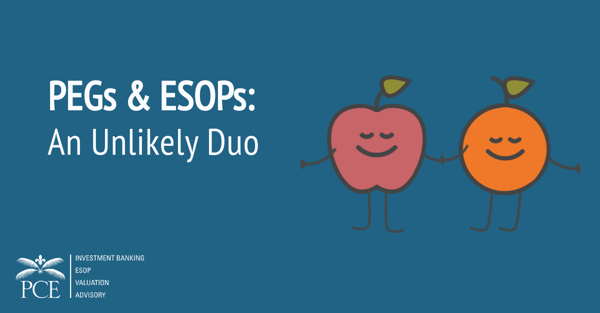 What Kind of ESOP Attracts Private Equity?
PEGs seek committed management teams to help drive the company forward and many ESOP companies have this characteristic. ESOP companies are typically comprised of entrepreneurial employees that enjoy working collaboratively to increase the value of the business. Employees in ESOP companies tend to act and think like business owners.
PEGs like to incentivize employees for improving the performance and value of the company. An ESOP structure accomplishes this goal by sharing the value increase of the company with employees.
Companies that are good ESOP candidates have both solid growth prospects and cash flow. Again, characteristics that PEGs look for in an investment. Growth and cash flow are important to insure the returns desired by PEGs and the ability to fund growth and repay debt.
Why ESOPs and Private Equity?
When selling 100% of a company to an ESOP, the business owner often carries a note for a portion of their proceeds. This is a show of good faith and a clear bet on the now ESOP-owned company to continue the success and profitability the company enjoyed pre-sale. This is similar to "rollover equity" by an owner in a straight forward PEG transaction. In the right circumstances, a PEG can invest money in the company to help reduce or eliminate that seller note.
In this instance, the acquired company's balance sheet is used to borrow funds from a senior lender and the PEG finances a portion or the balance of the total purchase price in the form of subordinated notes with warrants. Effectively this enables:
the ESOP to own 100% of the business (potentially paying no income taxes),
the private equity fund to earn its return as a debt holder; and
the former owner to realize more of his proceeds as cash rather than seller note.
One of the reasons this is attractive to private equity is the tax advantages that ESOP-owned companies enjoy. The ability for ESOP-owned companies to pay debt pre-tax or be entirely tax-exempt allows private equity a greater certainty of realizing its return, therefore making an ESOP an attractive investment.
If you are part of an ESOP or considering forming an ESOP remember that private equity can be a valuable tool to provide additional liquidity in a transaction. There are many options when it comes to ESOPs. Their flexibility as an exit strategy is one of their most attractive characteristics.
If you have comments or questions about this article, or would like more information on this subject matter, please contact us. Or, visit our ESOP Planning Library to find additional resources to help guide you through the ESOP planning process.
407-621-2100 (main)

407-621-2124 (direct)

407-621-2199 (fax)