How Business Owners Should Respond to Unsolicited Offers
Receiving unsolicited interest in acquiring your business may produce mixed feelings. At first you're excited to be recognized for all your hard work and dedication, but things quickly become overwhelming as you struggle to make the right choices: Is the prospective buyer's offer fair, or even legitimate? Is selling right now in your best interest? In this situation, an investment banker can help you weigh your options and create a more competitive process—and a mini auction may be your best bet.
Have you received an unsolicited offer for your business? Are you wondering how to respond? Below, check out the answers to all your crucial questions.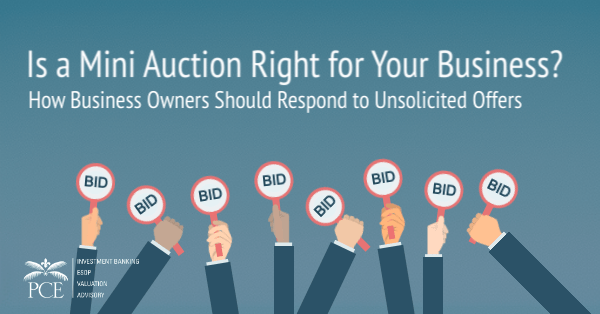 How Can You Know If the Unsolicited Offer Is Legitimate?
Business owners regularly receive unsolicited messages from parties supposedly interested in acquiring their company. Most of the time, these solicitations are spam. Your first step, then, is to research the potential buyer's company and background to confirm they are legitimate. Speak with the representative to vet their authenticity and the reasons for their interest in your business.
If the buyer is sincere, they likely have expressed interest in your not-for-sale business in hopes of acquiring it at a low purchase price. After all, you have no competing offers yet. What's more, the buyer expects you to be inexperienced in M&A deals, unprepared, and unrepresented by an investment bank—and thus more likely to accept below-market terms. By accepting this initial offer, however, you could be leaving money on the table.
When Should You Seek an Investment Banker's Advice?
Of course, selling your business isn't always about getting the highest price possible. Sometimes finding the right buyer—someone who aligns with your goals and values—is just as important. Either way, after confirming the interested party is legitimate, you should reach out to your investment banker, who can assess the opportunity and advise you on how to proceed.
Often, an investment banker, even before you hire them, will be glad to review an unsolicited offer and tell you whether it is fair. Investment bankers have significant expertise in valuing businesses, assessing transaction terms, and identifying whether potential buyers are the right fit for your company.
Although accepting an unsolicited offer for your business would save you the time and effort of executing a full-scale auction process, when you jump at that first offer, finding the right buyer and getting the best deal terms is unlikely. That's why your investment banker may suggest running a mini auction, which will expedite the process while also allowing you to market your business to a controlled group of high-quality potential buyers.
What Are the Benefits of a Mini Auction?
The best way to maximize the value you receive for your business is by running a mini auction, which significantly reduces the time and expense related to the process. A mini auction offers many benefits, including:
Increased competition. A mini auction creates competition for the unsolicited bidder, which typically generates multiple offers, drives up the purchase price, and improves the deal terms of the original offer.
Greater control. Unlike an expansive marketed auction, a mini auction regulates the distribution of your company's sensitive information only to selected targets.
Faster process. The mini auction involves only a limited pool of targets who are already knowledgeable about the industry or market you serve, so it can be completed quicker than a larger auction.
More leverage. A bidder competing with other offers in a mini auction has less leverage, enhancing your opportunity to negotiate more favorable terms.
Increased confidence. Multiple offers from the mini auction provide a more accurate assessment of how the market values your business, which means you can be more confident that you're getting the best deal.
How Does a Mini Auction Work?
Your investment banker can walk you through the process of running a mini auction, which follows steps similar to a full sell-side process but has a limited scope and a shorter timeline. Using their contacts and market knowledge, the investment banker will prepare the Confidential Information Memorandum (a marketing document that provides an overview of the business and its key investment considerations) and a short list of the highest-quality targets—potential buyers who truly understand and want the best for your business.
After assessing interest, making introductions, and soliciting offers, the banker will then compare these offers against the original bid and use them as leverage to negotiate both greater offer value and better terms. Finally, your investment banker will deliver valuable guidance on the most tax-efficient transaction structure for your purposes.
***
It's exciting when someone shows interest in buying your business, especially when the timing aligns with your personal goals. But having only one interested party puts you at a disadvantage. To ensure you find the right buyer and get the best deal, choose an investment banker who will represent your short- and long-term interests by running a mini auction.
PCE has the experience and expertise to navigate this situation as you make one of the biggest decisions facing your business: how to respond to an unsolicited acquisition offer. Contact us today to learn more.
407-621-2100 (main)

201-444-6280 Ext 3 (direct)

407-621-2199 (fax)