Hisco Inc., North America's Premier Distributor of Mission-Critical Materials, expands its U.S. distribution footprint with the acquisition of the Sales and Distribution Division of STI Electronics, Inc. (STI), which provides assembly products and soldering supplies to the electronics manufacturing industry. PCE Investment Bankers (PCE) sourced and served as financial advisor to Hisco.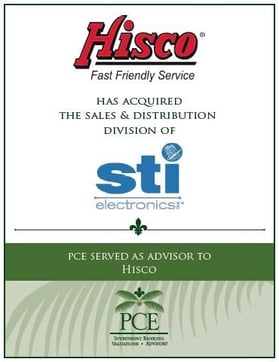 STI is a full-service, total solutions partner that provides advanced engineering and analytical lab support, training materials and services, and distribution solutions for the electronics industry. Their other services, including training services, failure analysis, prototyping, and small- to medium-volume PCB assembly, will remain with STI. The STI distribution facility in Madison, AL will operate as a Hisco location to service local customers.Bob Dill, President of Hisco Inc., says: "We are excited to acquire the STI Sales and Distribution division. Their proven track record of customer service and quality products fits perfectly with the Hisco value proposition. This acquisition enables us to further expand our signature fast, friendly service to customers in the Southeast.""We are very pleased for both parties. The business model Hisco has created makes them a preferred acquisition partner. The acquisition of STI's Sales and Distribution Division will further enhance Hisco's position in the distribution market and allow STI to focus on its core business" stated PCE's Michael Rosendahl.This is PCE's third transaction serving as financial advisor to Hisco. PCE advised Hisco on its acquisition of TC Services in 2012 and All-Spec Industries in 2014.

About Hisco

For more than 40 years, Hisco® has delivered value to customers through quality products, process solutions and local inventory. Today, the international branch network includes 34 stocking locations ― 23 in the United States (including Puerto Rico), 10 operated by the HiscoMex subsidiary in Mexico and one operated by HiscoCan in Canada. Two converting facilities provide value-added fabrication and custom repackaging. Hisco® also offers vendor-managed inventory programs and specialized warehousing for chemical management, cold storage and logistic services. For more information, visit www.hisco.com.

About STI Electronics, Inc.

Since 1982, STI Electronics, Inc. (STI) has been the premier full-service organization for training, consulting, laboratory analysis, prototyping, and small- to medium-volume PCB assembly in the electronics industry. STI also produces a complete line of solder training kits and training support products. For more information, visit www.stielectronicsinc.com.

If you have comments or questions about this article, or would like more information on this subject matter, please contact us.