PCE Investment Bankers, a leading financial services firm for mid-market companies, is pleased to announce the purchase of Kimco Distributing Corporation (Kimco) by Hisco, Inc. (Hisco). This transaction marks the seventh buy-side engagement in which PCE has served as the financial advisor to Hisco.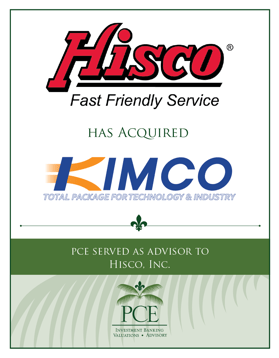 Hisco, headquartered in Houston, TX, is an employee-owned specialty distribution company serving various markets, including electronic assembly, aerospace, defense, automotive electronics, and medical electronics.
"For more than ten years, Hisco has maintained a rewarding relationship with PCE," said Bob Dill, president of Hisco. "We have trusted the PCE team to assist us with numerous transactions, and we are always pleased with the results, and this transaction is no different."
Mr. Dill continued, "We are thrilled with the acquisition of Kimco. The team at Kimco has a proven track record of customer service and quality products that perfectly fit the Hisco value proposition. This acquisition enables us to further expand our signature' fast, friendly service' to customers throughout North America."
Michael Rosendahl of PCE commented, "We are very pleased for both parties. Hisco's business model highlights its strengths as a preferred acquisition partner. The acquisition of Kimco will further enhance Hisco's position in the market."
Kimco, founded in 1978, is a major supplier of products, services, and solutions to the manufacturing, testing, and repair industries to numerous companies in the Midwest United States.
About Hisco
Hisco's international branch network includes 35 stocking locations in three countries: the United States, HiscoMex in Mexico and HiscoCan in Canada. Hisco's Precision Converting facilities provide value-added fabrication, and its Adhesive Materials Group provides an array of custom repackaging. Hisco also offers vendor-managed inventory programs and specialized warehousing for chemical management, logistics services and cold storage. Hisco's exclusive Documented Cost Savings (DCS) program has saved customers more than $152 million to date. Its supplier base includes manufacturing giants Henkel, Alpha and 3M, to name a few. For more information, visit www.hisco.com.
About Kimco Distributing Corporation
Since 1978 Kimco Distributing Corp. has been a major supplier of products, services, and solutions to the manufacturing, testing, and repair environments. Kimco originated by supplying NE Ohio PCB assembly houses with production supplies. Over 40 years later, Kimco now distributes throughout North America and supports the following territories with representation: Ohio, Pennsylvania, Indiana, Michigan, Kentucky, West Virginia, Delaware, Maryland, Virginia, North Carolina, South Carolina, Florida, and Puerto Rico. For more information, visit www.gokimco.com.