Houston, TX (August 1, 2014) – Hisco Inc., North America's Premier Distributor of Mission-Critical Materials, has acquired HMC Electronics, a nationwide supplier of assembly and process materials to printed circuit board producers, electronics manufacturers and repair centers. PCE Investment Bankers (PCE) sourced the acquisition and served as financial advisor to Hisco.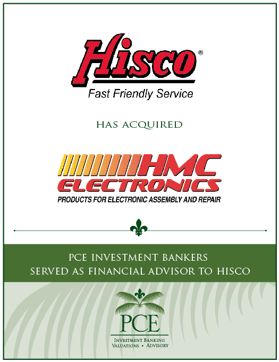 HMC, headquartered in Canton, MA, distributes over 10,000 products and technical supplies to companies involved with the design, assembly, test, and repair of circuit boards, sub-assemblies and other electronics manufacturing. These products include precision hand tools, soldering and desoldering supplies, static control products, test equipment, measurement and inspection instruments, chemicals, adhesives, work stations and circuit board handling equipment.
Bob Dill, President of Hisco Inc., says: "We are excited to welcome HMC staff, customers and suppliers to Hisco. HMC has shown a dedication to meeting the needs of the electronics industry that is well aligned with the Hisco vision. We look forward to serving their customers with the fast, friendly service that has made Hisco an industry leader."
Howard Chase, CFO of HMC Electronics, adds: "This is an exciting time for HMC employees and customers. We are proud to become aligned with Hisco, a company that provides HMC with expanded resources to help service our long-established customer base. Our partnership combined with shared common values creates a win-win opportunity for both companies."
"The acquisition of HMC by Hisco is an optimal outcome for both parties. Hisco's acquisition continues their consolidation of the electronic assembly materials distribution market and provides a good home for HMC's customers and suppliers" stated PCE's Michael Rosendahl. Rosendahl continued, "Hisco continues to be the preferred acquisition partner in this space."
"We appreciate all of PCE's hard work. They are a trusted partner in our acquisition process" commented Dill.
This is PCE's fourth transaction serving as financial advisor to Hisco and third acquisition in 2014. PCE advised Hisco on its acquisition of TC Services in 2012, All-Spec Industries in 2014 and the Sales and Distribution Division of STI Electronics in 2014.
About Hisco
For more than 40 years, Hisco® has delivered value to customers through quality products, process solutions and local inventory. Today, the international branch network includes 34 stocking locations ― 23 in the United States (including Puerto Rico), 10 operated by the HiscoMex subsidiary in Mexico and one operated by HiscoCan in Canada. Two converting facilities provide value-added fabrication and custom repackaging. Hisco® also offers vendor-managed inventory programs and specialized warehousing for chemical management, cold storage and logistic services. For more information about Hisco, visit www.hisco.com or call 877-447-2650.
If you have comments or questions about this article, or would like more information on this subject matter, please contact us.