PCE Investment Bankers, a leading financial services firm for mid-market companies, is pleased to announce the sale of Grant Aviation (Grant) to Westward Partners (Westward), a private equity firm located in Seattle, WA. PCE served as the exclusive advisor to Grant Aviation, an Alaskan-owned and operated airline.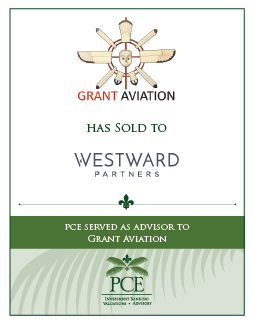 "I could not be more enthusiastic about the partnership we have created with Westward, and I am even more excited for the future of our company", said Robert Kelley, President & CEO of Grant. "The new ownership group includes significant capital from investors within the state of Alaska, creating strong alignment with our broader mission and continued success. While the ownership has changed, our management team, employees, operations, and our culture – all the things that make Grant Aviation great – will not."
Mr. Kelley continued, "PCE has been a valuable partner to Grant throughout this process. They brought us multiple good options and the result is the best outcome for the shareholders and company. Their advice and support throughout the process was instrumental in helping us get to the finish line."
Established in 1971 as Delta Air Services, Grant serves customers in Western Alaska, South Central Alaska and the Aleutian Chain, and is the recipient of several Accident-Free awards from the Alaska Air Carrier's Association.
"Westward's acquisition of Grant is an ideal outcome for all involved," commented Michael Rosendahl of PCE. "Grant has a strong, well-capitalized partner with significant connections in the region, which will foster future growth."
Legal representation for Grant Aviation was provided by Cole Schotz P.C.
About Grant Aviation
Grant Aviation has base operations in Anchorage, Bethel, Cold Bay, Dillingham, Dutch Harbor/Unalaska, Emmonak, Kenai and King Salmon, and serves communities throughout the Yukon-Kuskokwim Delta, the Aleutians, and Bristol Bay. In addition to scheduled flights, Grant offers charter flights and cargo services. Grant maintains an operating fleet that includes GA8 Airvans, Cessna 207s, Piper PA-31-350 Navajos, Cessna Grand Caravans, and Beech King Air 200s. www.grantaviation.com
About Westward Partners
Westward Partners is the only private equity firm with an exclusive focus on Northwest US-based businesses. Working off a 12-year track record of partnering with leading management teams in the business services, consumer, distribution, and manufacturing industries, Westward currently invests in companies with revenues between $15 and $300million, and EBITDA of $4 and $20 million. Westward employs a hands-on, local approach to building long-term financial value for its investors and management teams. www.westwardparnersllc.com