The 50-year anniversary of the employee stock ownership plan (ESOP) is just one year away, as it was the Employment Retirement Income Security Act of 1974 (ERISA) that made ESOPs possible. Yet the number of ESOP-owned companies has declined in recent years, from 6,717 in 2014 to 6,467 in 2020. Although this decline may not seem significant, consider that more than 225 new ESOPs were created annually in that same period, meaning that more than 225 ESOPs went away each year.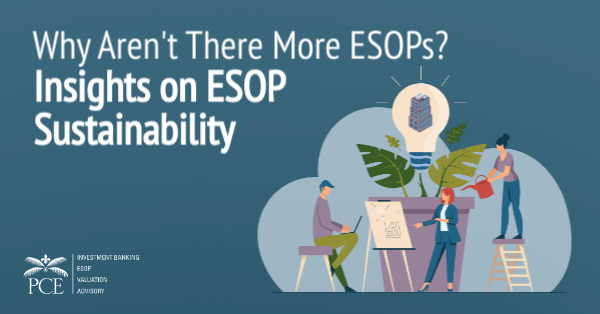 If you're forming an ESOP (or you already have), you need to know why some of them fail. We've looked to the trailblazing companies that formed ESOPs in the first decade or so after ERISA for insight into what makes an ESOP sustainable, given that these companies have been through multiple economic cycles, not to mention several iterations of leadership and employee base.
Why are we losing more ESOPs than we are gaining? And what does this mean for your ESOP-owned company? What we've learned is that generally, your success as an ESOP will depend on three key factors: sound financial management, good corporate governance (including succession planning), and superior communication.
Sound Financial Management
Like all companies, your business needs to focus on sound financial management to ensure it can continue to survive and thrive in the years to come. As an ESOP, however, you have additional issues to worry about from a financial perspective—as well as additional "cushion"—when compared with your non-ESOP competitors.
Your advantages are primarily tax driven, given your opportunity to operate in an income-tax-free environment. Depending on the state where you operate, this could mean a 40% cash flow advantage (or more) over your taxable competitors. For most ESOP companies, the resulting accumulation of cash provides a significant operating cushion when you confront potential cash flow issues. However, one noteworthy mitigating factor often becomes the single largest financial issue for ESOP-owned companies: the repurchase obligation, which requires the ESOP or the company to buy the shares from participants who leave within five or ten years of their departure. The magnitude and volatility of this obligation often create difficulties, and ESOP-owned companies deal with this in very different ways. The key to success here is active management of your repurchase obligation—one of the most important steps to ESOP sustainability.
Your company may choose to fund its ESOP on an as-needed basis, with little planning for how that may impact the business from year to year. Although the aforementioned tax advantages provide you with the luxury of operating in this manner, this strategy may fail if you face a downturn in business or another unexpected claim on cash. To ensure the repurchase obligation doesn't negatively impact your business, you'll want to anticipate and plan for it in your original ESOP plan design. Drafting your plan with the most flexibility permitted under the law will allow the company time to repurchase shares when finances are tight—or to accelerate the repurchase when the cash is flowing. Releveraging the ESOP, stretching out the ESOP loan, segregating departed participants, and offering early diversification in your plan are some of the most useful strategies for actively managing your repurchase obligation.
Good Corporate Governance
Good corporate governance—maintaining effective policies and practices that guide how your company is run, including the roles and responsibilities of its directors, the way decisions are made, and accountability to stakeholders—is another key factor in upholding the sustainability of your ESOP. To ensure reliable governance, your ESOP-owned company must first establish a strong board of directors with a diverse set of skills and experiences. Of course, the board should include independent directors who can provide objective guidance and oversight, but you might also include an employee director who can represent the interests of the ESOP participants. Although employees outside of the C-suite typically don't serve on most boards of directors, this type of board actually is an enhanced version of an ESOP committee, so a member of your ESOP committee (if yours is very effective) may be a valuable addition.
Notwithstanding the importance of board composition and governance, for ESOP companies the key function of the board is succession planning. The transition from your original, pre-ESOP management team to the next generation of leaders—the first to experience the ESOP—is a pivotal juncture for the sustainability of your company. The entrepreneurial mentality of a founder generally differs from that of an employee-owned company's leader, and that is fine. The challenge lies in how the founder or former owner will cede control in an orchestrated way so the next leadership group is set up for success. Planning for succession at your company should be completed over a number of years, with various responsibilities delegated over time, to ensure that the transition is a success and that leadership is in a sustainable position going forward.
Superior Communication
Effective communication with employees is essential for any organization that wants to build trust, foster engagement, and drive success. Your ESOP-owned company is no different, so be sure to encourage qualities that are essential to good communication, including:
Clarity. A clear, concise message is vital in making things easy for employees to understand. Avoid using technical jargon or complex language that may confuse employees and lead to misinterpretation.
Transparency. Sharing information openly and honestly helps build trust with employees and creates a sense of accountability within your organization.
Timeliness. When you share information in a timely manner, employees will have the intelligence they need, when they need it. This is particularly important when it comes to major changes within the organization, such as mergers or acquisitions.
Reciprocity. Good communication is two-way, with opportunities for employees to provide feedback and ask questions. This creates a sense of engagement and encourages employees to feel that they are valued and their opinions matter.
Consistency. Reinforcing messages over time ensures that they are fully understood and remembered by employees. When your organization is consistently aligned around key priorities, your employees understand they are working toward a common goal.
Personalization. Effective communication is personalized, with messages tailored to the needs and interests of various employee groups. Your employees should feel that you are speaking to them directly and that the organization is aware of their unique needs and challenges.
A direct correlation exists between effective communication and ESOP sustainability. Your company's ESOP participants need to know not only what the ESOP is, but how it works and how it benefits all participants. Good communication will allow your company to operate as a unit rather than as a collection of individuals, which will prepare your company to be successfully ESOP-owned for the foreseeable future.
***
ESOP sustainability is a critical focus for your ESOP-owned company regardless of how long it has been employee-owned. Focusing on financial stability, succession planning, and communicating with your employees will help ensure your ESOP is sustainable and positioned to last.