Transportation companies are thriving today. But the industry's most coveted asset, its drivers, are being heavily courted in a competitive employment environment. For a majority of transportation companies, driver satisfaction goes hand in hand with company reputation, customer satisfaction and success. The American Trucking Associations ("ATA") reports that the transportation industry has struggled with driver shortages over the past 15 years. The shortage further exacerbates profit margin as the recent tight labor market has given rise to increased wages for drivers.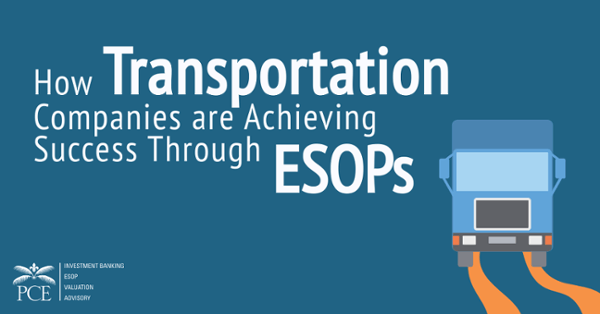 With numerous business owners considering exiting over the next few years, it begs the question: 'How will owners of transportation companies achieve their desired sale value as they strive to maintain their company's culture and retain and attract their most prized asset, the drivers?'
The answer: an Employee Stock Ownership Plan ("ESOP"). An ESOP may be the ideal solution as personal liquidity, legacy and employee retention issues can all be addressed when transportation company shareholders consider an exit.
(Want to learn more about ESOPs? Read our ebook to see how an ESOP could benefit your company.)
ESOPs as an Employee Retention Tool
The National Center for Employee Ownership (NCEO) analyzed data from the Great Place to Work Institute, the organization that produces the "100 Best Companies to Work for in America" and concluded that ESOPs have the power to significantly reduce turnover and are strongly related to how employees perceive their company as a "great place to work." Additionally, the NCEO reports that employee owners are 40% - 50% less likely to say they will look for a job the next year compared to non-owner employees.
Douglas Kruse and Joseph Blasi of Rutgers University further emphasize the positive employee retention effects of ESOPs. They found that ESOPs increase sales, employment, and sales by employee by about 2.4% per year over what would have been expected absent an ESOP. The relative growth numbers might seem small at first glance, but projected out over 10 years, an ESOP company with these differentials would be a third larger than its paired non-ESOP match.
Why Drivers Like ESOPs
The benefit of participating in an ESOP for the employee/driver can be significant. An ESOP is designed to transition the business from the shareholders to the employees through allocation of the company stock. A trust is established which will own the shares, and the employee participants will be the beneficiaries of the trust and its assets/stock. In doing so, the employees, and specifically drivers, will have an added benefit that is likely to attract new hires and increase the length of time a trained employee remains with the company. As drivers benefit from the value appreciation in the company stock over time, the drivers build up their retirement fund. Those employees who are the most loyal and stay the longest are rewarded most under ESOP ownership.
ESOPs as a Tool for Liquidity
For shareholders, ESOPs create a way to receive cash for the sale of their stock. The ESOP is attractive due to flexible deal structures, speed with which a transaction can be completed and significant tax savings to the owner and company.
Flexibility
An ESOP is content with owning as little or as much as the owner desires to sell, which allows for flexibility in structuring the transaction. ESOP transactions can easily be structed and tailored around the owner's desires. In addition, ESOP transactions typically take less time from start to finish versus other business transition methods such as selling to a third party. This lends itself to a smoother and more efficient transaction, which puts ease in the minds of the selling owners.
Tax Advantages
Significant tax advantages come into play with an ESOP, both to the owner and to the company. For the owner, a sale to an ESOP can provide the opportunity to defer his or her capital gains tax on the sale; often indefinitely. The company benefits from an ESOP specific tax deduction that can allow it to minimize or totally eliminate its federal income taxes. The additional savings in cash flow can prove to be very powerful for the company, allowing it to repay debt quicker, make additional investments within or create new lines of business or target acquisitions to grow.
Examples of Successful Transportation ESOPs
We have seen firsthand the popularity of ESOPs within the transportation industry as business owners deal with business transition desires, driver shortage and retention concerns. Here are just a few examples of transportation transactions completed by PCE.
Implementing an ESOP offers transportation companies an outstanding way to compete for new hires and retain their current workforce. This approach is unlike any other offered and can set a business apart within the transportation industry, while simultaneously providing shareholders liquidity and business transition options.
PCE has the expertise, dedicated team and skills to structure a solution for your business to differentiate itself and provide benefits to the shareholders, company, and of course its employees/drivers.
Contact me today to learn more about how an ESOP can benefit your company or visit our ESOP planning library.