When it comes to selling your company, time is not on your side. "Time kills all deals" is a phrase commonly heard in the high-stakes world of mergers and acquisitions, where a changing economic environment eventually generates an unsuccessful outcome for business owners who waited too long to begin or created delays in the sale process. That's why, once you start on the path to selling your company, it is imperative that you move quickly.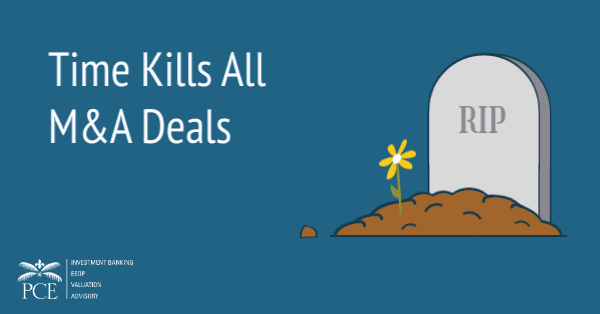 For a business owner looking to sell, running a healthy, thriving company is your most important job. To increase your chances of success, however, swiftly implementing the M&A transaction process must become your second-highest priority. Sellers typically enjoy a six-to-nine-month window of opportunity, largely depending on how responsive they are during the sale process—and you will always be better off at the shorter end of that time frame. Yet nearly every investment banker has experienced a troubling lack of urgency in the sale process, whether it is with sellers who fail to properly prepare before marketing the company or with those who are unable to provide information and decisions to potential buyers in a timely manner.
Below are a few examples of issues that can develop during the sale process—and suggestions for moving quickly to avoid the negative impact of a delay.
1. A major event triggers a quick turn in the M&A market.
Although 9/11 often comes to mind, two more recent events also illustrate this experience. In the summer of 2008, we were very close to selling a company and a substantial portion of the purchase price was funded with debt. Despite widespread concerns about the economy, few expected the catastrophic meltdown that would soon take place in the financial sector. Everyone at PCE was working hard to close the transaction, and it paid off. Two weeks later, Lehman Brothers declared bankruptcy, and the debt markets essentially closed for a period of months, with no deals getting done. Failing to push ahead would have been fatal to the transaction. Instead, the business owners achieved a great result.
Business owners faced a similar predicament when COVID-19 started to spread and the economy shut down. Nearly all transactions stopped for a couple of months as clients paused the sale of their companies. Some ended up selling anyway, but with inferior results. Others still have not fully recovered or accomplished that sale. Yet all of them were thinking about selling long before anyone had heard of COVID-19. In this case, as in many others, putting off that decision had a substantial impact.
2. The seller delays the process for an entirely avoidable reason.
Sudden and unforeseeable catastrophes are not the only cause of unfortunate outcomes. Other, more predictable issues and events, such as challenges in collecting information or previously scheduled vacations, can halt the sale of your company unnecessarily. Of course, canceling all vacations and dropping everything at the office to work on the sale of your company is unreasonable. But you can avoid these types of issues by being methodical in preparing and collecting relevant information, responding to questions from your deal team, and planning your vacation around the sale process. If you don't take these simple steps from the start, time can slip away—and tough luck if you run into an unanticipated event such as those described above.
3. Excessive delay causes the buyer to move on.
Keeping potential buyers engaged during the sale process is paramount. If you're unable to provide critical information about your company quickly, the buyer may become impatient and give up on the transaction. Whether your third-party advisors are slow in providing details or your internal team faces competing demands is immaterial. By the time you respond to the request for information, the buyer's attention may have strayed toward other acquisitions that seem more likely to close.
Selling your business is never an easy choice, but being decisive and remaining committed to the process is crucial in order to achieve the outcome you desire. In an unpredictable world, even factors that seem highly unlikely can negatively impact the sale process, so you are best positioned to avoid these pitfalls by hiring an experienced deal team, including an investment banker. And if you decide to move forward, move quickly.
Please contact us if you think we can help.