Your company now has a new classification that you may have never considered: "essential" or "nonessential." These categories have emerged due to COVID-19. Businesses labeled essential have a responsibility to continue functioning and operating for the community's health and well-being. While a large number of companies need to change their operations or temporarily halt operations, these essential businesses remain open. The essential designation has helped maintain your company's value.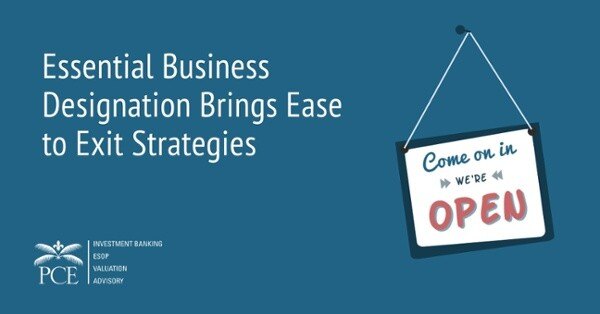 Each governor designates which companies are essential in each state; however, the determination is based on the guidelines from the Cybersecurity and Infrastructure Security Agency. This has created some variations of operations between the states.
Essential businesses are ones that support healthcare services, pharmaceutical industries, and food supply. In addition to these, there are also businesses that support critical infrastructure initiatives that help these crucial businesses function.
The industries listed below play a critical role during the current pandemic:
Healthcare Facilities
Food Production and Distribution
Transportation/Logistics/Trucking
Primary Metals Manufacturing
Machinery Manufacturing
Electrical Equipment, Appliance, and Component Manufacturing
Infrastructure/Telecom Construction
HVAC and Electrical Engineering
Government Contracting
Hardware and Building Material Distribution
Essential Businesses Attract Buyers
If your business has been classified as essential, you are in an enviable position. More than likely, your business valuation has recently increased even if your performance has been flat or slightly down during the months of the pandemic. As the economy starts to recover and M&A activity begins to rebound, your company will be the most attractive to buyers.
Emphasizing your essential designation can be a crucial marketing technique when trying to sell your company. Not only can you show the continued growth and continuity of your company, but you are also able to withstand a pandemic – you are pandemic resistant.
The chart below shows the reported median transaction multiples for these essential business classifications over the past two years for transactions valued at or below $500 million as provided by S&P Capital IQ.[1] Remember that only 20%-25% of transaction information is reported. So most likely these multiples are skewed to the high end. However, this information does provide a good context for valuing your business.
Essential Businesses Create Certainty for Acquirers
As an essential business, you are creating certainty during a period of uncertainty for acquirers. This is a key element that investors consider when examining acquisitions. Investors also consider your ability to generate and maintain margins and positive cash flow. The growth potential for your business is much higher than for companies in other industries, given the demand for your products or services has not been adversely impacted. Your business's limited material adverse impacts during this pandemic allow for minimal impact on your company's valuation.
This essential classification gives you more exit strategies for your business. The groups of potential investors for your business may have expanded as the parts of this community remain active, and now more groups are looking to increase their exposure to these pandemic-resistant businesses. In addition, fewer companies are attractive due to the pandemic.
Your Essential Business Has a Compelling Story
A crucial step when selling your company is having a story of business growth and stability. Being labeled an essential business allows you to avoid the painstaking process of establishing how you sustained throughout the pandemic and what cuts and changes you made to recover to achieve profitability. You will still need to demonstrate how the pandemic impacted you; however, the impact will not be nearly as severe as that of nonessential businesses in the United States.
Additionally, being an essential business allows you to continue having cash flow to invest in your business operations to cover replacement capital expenditures or even growth capital. The pandemic should not restrain financing for these functions due to the limited impact your business has sustained.
All of these unintended benefits – a larger group of investors, strong company story, continued growth trajectory, and access to capital – place your company in a better position to sell post pandemic.
Exiting Post COVID-19
Post COVID-19, exit strategy timing will be critical to ensure you achieve optimal results. For an essential business, the wait to take your company to market will not be as long as others' will. Many private equity firms have capital to deploy and are still actively seeking investments during the pandemic.
If you were thinking of a sale before the pandemic, continue or start preparing your business for sale. If a sale to a private equity firm is not the avenue you are considering, you should still start to prepare to ensure you are ready once these buyers return. Being first to the market when strategic buyers are actively seeking acquisitions may create significant interest in your company. Some strategic buyers may still be looking for deals now, but most, like you, are working to make sure their business is running smoothly during this crisis. A company like yours that is an essential business in a pandemic could be just the type of diversification a business needs moving forward.
[1] Government Contractors has been excluded from the figure due to insufficient reported information to provide value.