One of the most important steps in a sell-side transaction process is for potential buyers to meet the sellers and visit the business in person. It is hard to imagine someone buying a new home without seeing it in person; similarly, any serious buyer will need to meet the management team and see the facilities before acquiring the business.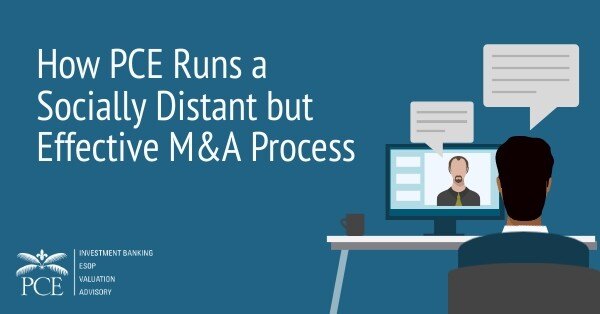 Social distancing and travel restrictions imposed in the US make it more challenging to meet in person. Despite the reopening of many states, we expect that many buyers will remain reluctant to travel. Since on-site due diligence is critical to the decision-making process, PCE has developed ways to run a socially distant but effective M&A process. Below we explain the typical sell-side process and highlight how we will adjust to overcome the obstacles.
Pre-marketing
The sell-side process begins with the pre-marketing phase, where PCE assesses the business and current market conditions to develop the marketing strategy. PCE requests core financial and operational due diligence from the seller to assist in this process. A virtual data room is used so that due diligence documents can be shared digitally. With these documents, PCE develops marketing materials and target buyers lists used in the marketing phase.

PCE hosts a "kickoff" meeting with the seller to review the strategy, marketing materials, target buyers lists, and the process timeline. This meeting is critical for all parties to find an agreed-upon approach for the transaction process. PCE has shifted this meeting to a video conference to reduce in-person contact. The video conference format allows for a more collaborative meeting than can occur during a conference call.
Marketing Process
The marketing process is focused on soliciting buyers and generating interest in the business. PCE performs this process by contacting potential acquirers via email and phone. Marketing materials are shared with prospective buyers who execute non-disclosure agreements.

Travel restrictions will not significantly impact the marketing phase since this phase is mostly performed remotely. However, reluctance to travel may determine where the most interested parties are located. We suspect that the most interest may be generated from buyers within driving distance of the business location.
Management Meetings
The next step of the process typically involves in-person management meetings with potential acquirers interested in proceeding to the next stage. These meetings provide potential acquirers the opportunity to meet with the sellers and key managers to learn more about the business. Typically, management meetings are held on-site at the sellers' facilities or off-site at a nearby hotel conference room.

Management meetings must be conducted before the transaction closing. PCE suggests hosting virtual meetings and delaying in-person meetings to later in the process. Virtual meetings provide interested parties the opportunity to ask management their due diligence questions while remaining safely distant.
Site Visit
Management meetings are often followed by a site visit of the business facilities. Site visits are sometimes conducted after business hours to avoid interrupting business operations or tipping off employees of a potential sale. Buyers will require a site visit, especially in capital asset–intensive businesses, such as manufacturing, to assess equipment conditions.

PCE suggests delaying the on-site visits to later in the process. Alternatively, sellers can prepare other items to provide some assurance of the facilities:
Floor plan layouts/blueprints that label facilities, equipment, etc.
Detailed photos of all major equipment
Map key that associates the equipment photographs to the floor plan/blueprints
Panoramic-style photos or videos to create an interactive virtual tour
These alternatives cannot replace an on-site visit but may provide some comfort to the potential buyers about the existence of facilities and equipment.
Due Diligence
Potential buyers will gain access to a virtual data room populated with certain financial and operational documents to review. This information is needed for potential buyers to determine whether they are serious about making a bid on the business. At this point, the potential buyers should have enough information to decide whether they are interested in pursuing the acquisition.

The due diligence phase is typically performed digitally using the virtual data room. However, if the sale includes real estate, third-party inspections will be required, such as a Phase 1 Environmental Site Assessment. PCE suggests requiring the inspector to wear a face mask and maintain social distancing rules while on the business premises.
In-Person Meeting and Site Visit
At this point, the remaining interested buyers have reviewed all marketing materials, have analyzed the due diligence, and have spoken with management. Those who continue to show interest are invited to an in-person meeting and site visit. The silver lining of delaying the in-person meeting and site visit is that it ensures that only serious buyers visit the facilities. Delaying in-person meetings also presents the opportunity to accelerate purchase agreement negotiations or expand Letters of Intent to include more key terms. This group of serious buyers creates a more competitive process, allowing the seller to compare offers with more fully baked deal terms.

PCE will coordinate the in-person meeting and site visit, taking all the necessary precautions to ensure safety, including:
Limit attendance to only critical decision-makers
Provide face masks to all in attendance
Require social distancing rules while on the premises
Limit in-person meetings to 1.5 hours, unless outdoors or in open spaces
Provide individually packaged foods and drinks during meetings
Closing
Transaction closings will not change, since they were typically done remotely before the pandemic. Negotiating the purchase price and transaction structure is conducted via email and phone through legal representatives. Once all parties are in agreement, PCE will facilitate a transaction closing that is safe and effective. If in-person signing is required or preferred, only those whose signatures are required on the closing documents and limited legal advisors will be present for the actual closing.

While the goal of a successful sale is to maximize transaction proceeds and sell to the right buyer, we acknowledge that safety is equally as important. PCE will put safety first at every step while keeping the transaction moving forward. Contact us today to learn more about our socially distant but effective transaction process.
For more information about selling your business, visit our Exit Planning Library.
407-621-2100 (main)

201-444-6280 Ext 3 (direct)

407-621-2199 (fax)